In 2015 I bought myself and Kris Dell Latitude E5450 laptops. 1 year later her battery was fine, however mine lasted 60 seconds on a full charge. I attribute this to Kris often using her computer on battery and not having it plugged in all the time, and me always having my computer in the docking station so it's constantly charging.
60 seconds of run-time
I lived with a bad battery for 3 years… 60 seconds is enough to run from one outlet to the next without having to power down… which is really all I need. Although I'll admit 120 seconds would be nice!
Battery Swelling Issue
A couple weeks ago I noticed a crack near my touchpad… and a bulge. My laptop was growing! Or rather, the battery was expanding! The battery pack is about 175% the height of what it should be!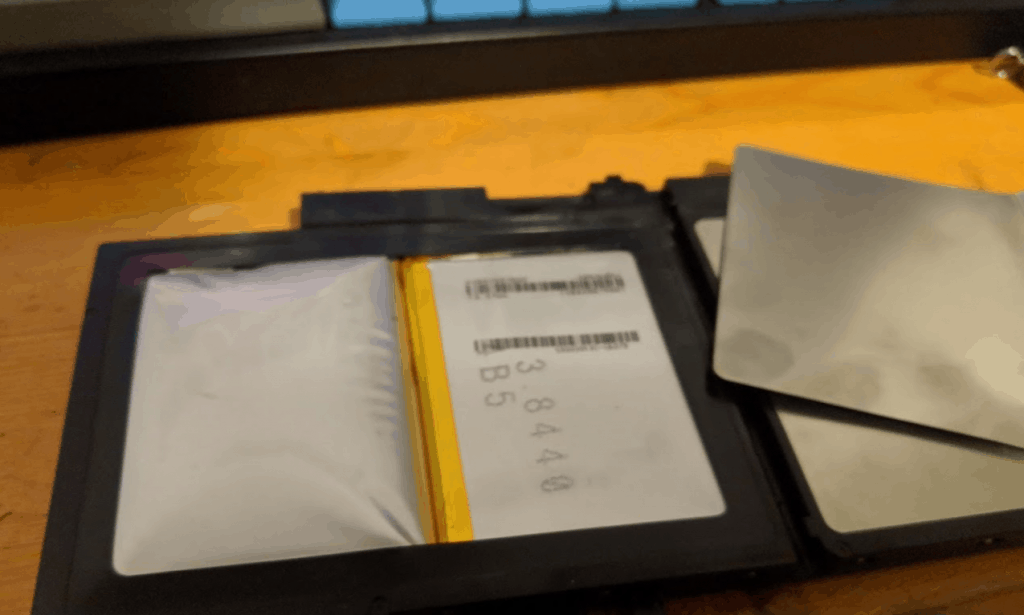 I quickly waited a few months, and decided that despite the battery still giving me my 60 seconds, this could be a safety or fire risk or my laptop might break if it swells much more, so out of prudence decided to buy a new Dell G5M10 battery. After installing it I went into the BIOS and noticed settings to change how Dell manages the battery! You can opt for faster charging, more run-time, or more longevity.
Here are the batttery life settings.
Charge Time, Run Time, or Lifespan. Pick any 1, sometimes 2.
ExpressCharge – Faster charging. This was the default! The problem is the faster you charge a battery the more you cause it to wear out sooner. This makes sense for people on the road who don't have a lot of time to recharge. But it doesn't make sense if you're almost always on AC power like me. This setting probably has a high charge stop up to maximum capacity (100%?) and high custom charge start (95%) so that it's always ready. I'm not an expert in batteries, but I believe batteries naturally lose power over time so each time it drops 5% of it's power it charges back up to 100%… those constant charge cycles cause a lot of wear not to mention the battery is being held at full charge which causes it to degrade faster. Running in this setting is giving you the best performance but you're pushing the limits.
Standard – This is the same as ExpressCharge as far as I can tell but a little slower charge. Other than that it's still going to wear the battery out fast.
Primary AC User – Designed to extend the battery lifespan for laptops that are usually plugged in. I assume this does two things: It probably slows down the charge rate, sets the Charge stop to a lower value like 70%, and sets the charge start to around 50% (I'm completely guessing at these numbers). This reduces the number of charge cycles needed to maintain the battery and is generally charging the battery up to levels suitable for long-term storage instead of maximum performance giving you the best lifespan at the cost of run-time. If you want longevity at the cost of run-time this is the setting you want.
Adaptive – This is what the default should be! It's a trade-off between the two. It optimizes battery settings based on how you typically use the computer. Meaning if you're running on AC power all the time it will act more like the Primary AC power setting, but if it sees you are using the battery a lot it will start behaving like the ExpressCharge.
Custom – Could also set custom values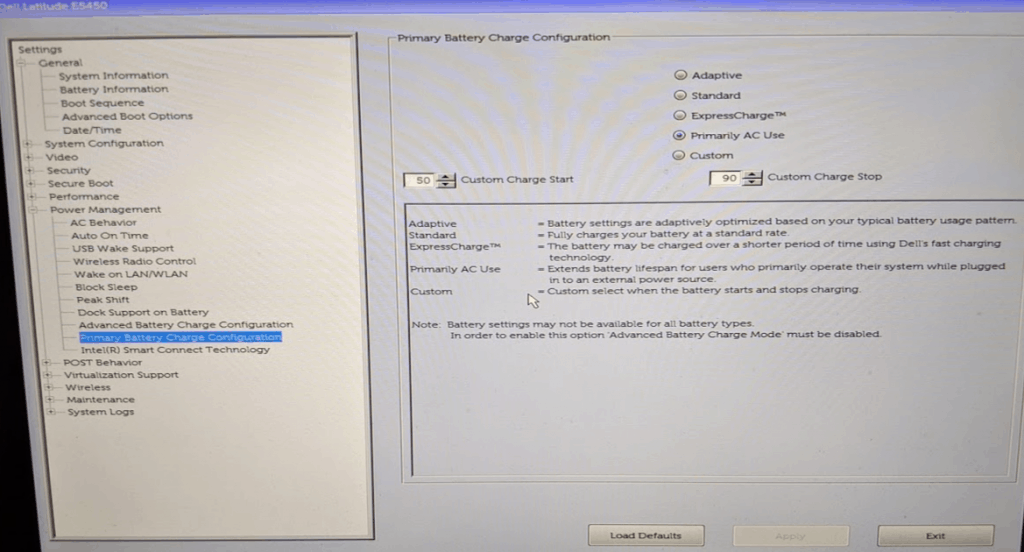 Optimizing Battery for both performance and longevity depending on the time of day
This will only drive your battery hard when you might need the run-time, but go easy the rest of the time. If you have a fixed schedule you can tell your Dell laptop what times of day you need more run-time. But then outside of those hours it will maximize longevity.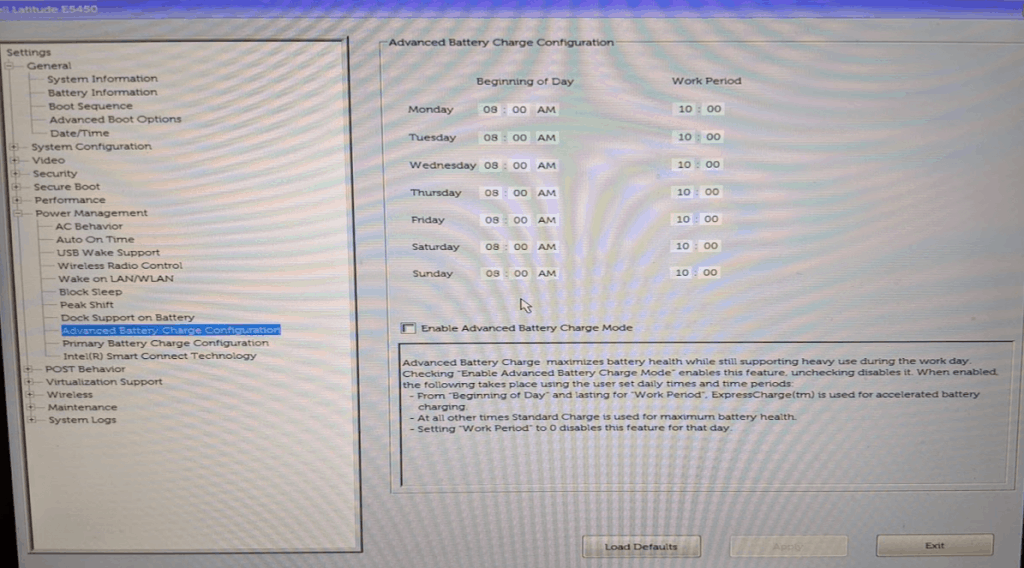 Well, I'll be changing my BIOS setting to Primary AC User.
And with my brand new battery I'm liking the new 4-hour run-time again. Now days I walk from outlet to outlet instead of running.

How to Get Longer Life Out of your ThinkPad Battery
If you use a ThinkPad read this KB on How to Increase Your Battery Life by changing the Battery Maintenance settings.