There are lots of features in this little box. It even has a printer in there somewhere.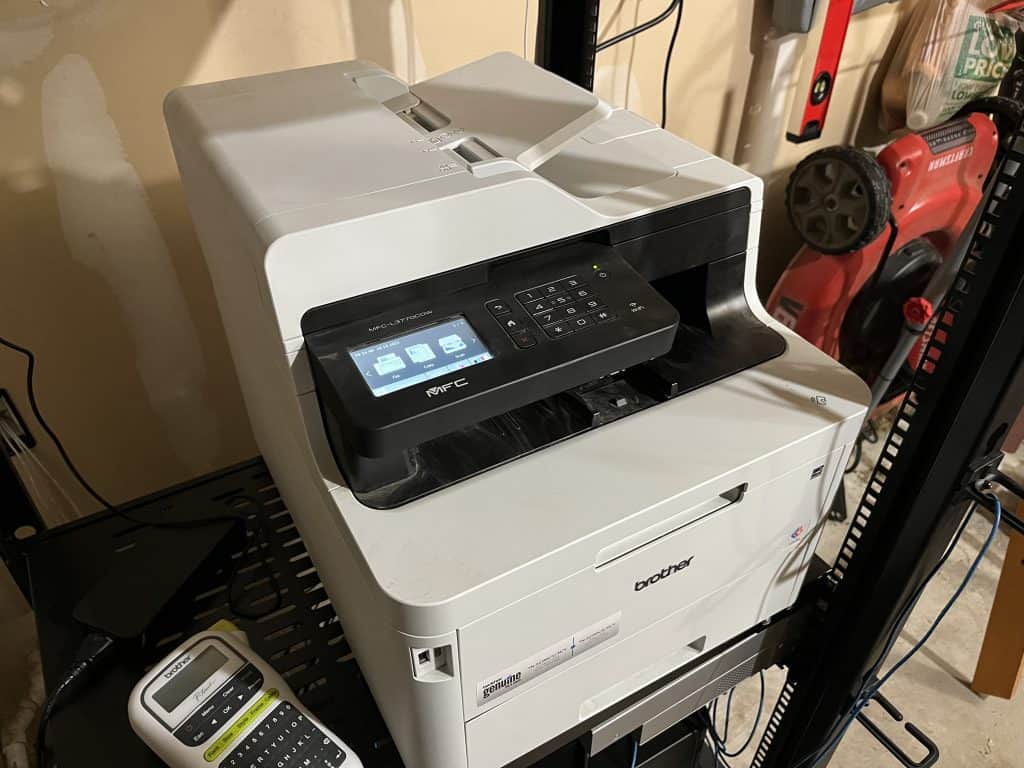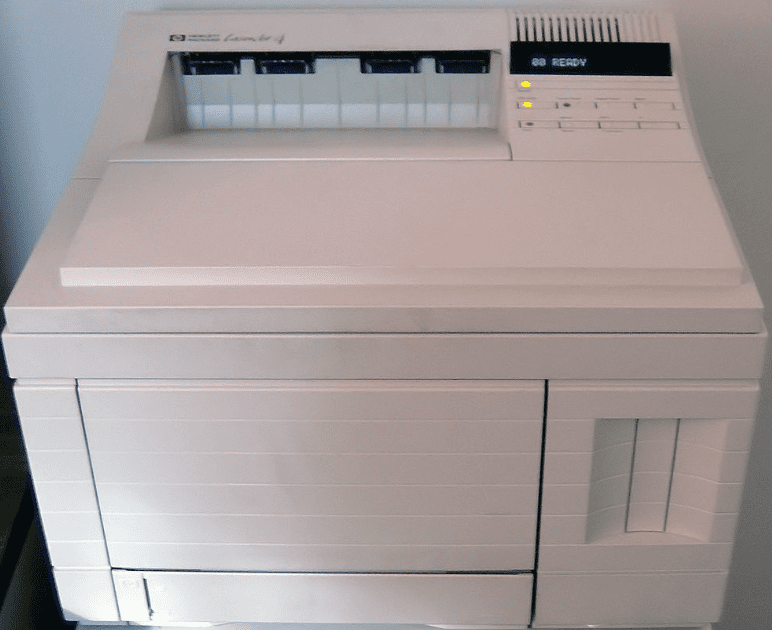 HP used to make decent laserjet printers, like my dad's HP LaserJet 4 from the 1990's. That engine is a workhorse rated for a duty cycle of 20,000 pages per month. It's so reliable that many have done a million prints and are still running to this day!
HP went downhill from there. And not just HP. Printers nowadays are cheaply made, designed to sell you ink, locked to a cloud service, and have DRM-protected ink cartridges rivaling the price of gold. Modern printers are so poorly made I didn't think I'd ever find one worthy of blogging about. But I found Brother. I've been running Brother LED printers for five years. I've been quite pleased with them. Now, modern Brother printers are not anywhere near 1992 HP quality. But to my surprise, Brother surpasses the value of a 1992 HP printer.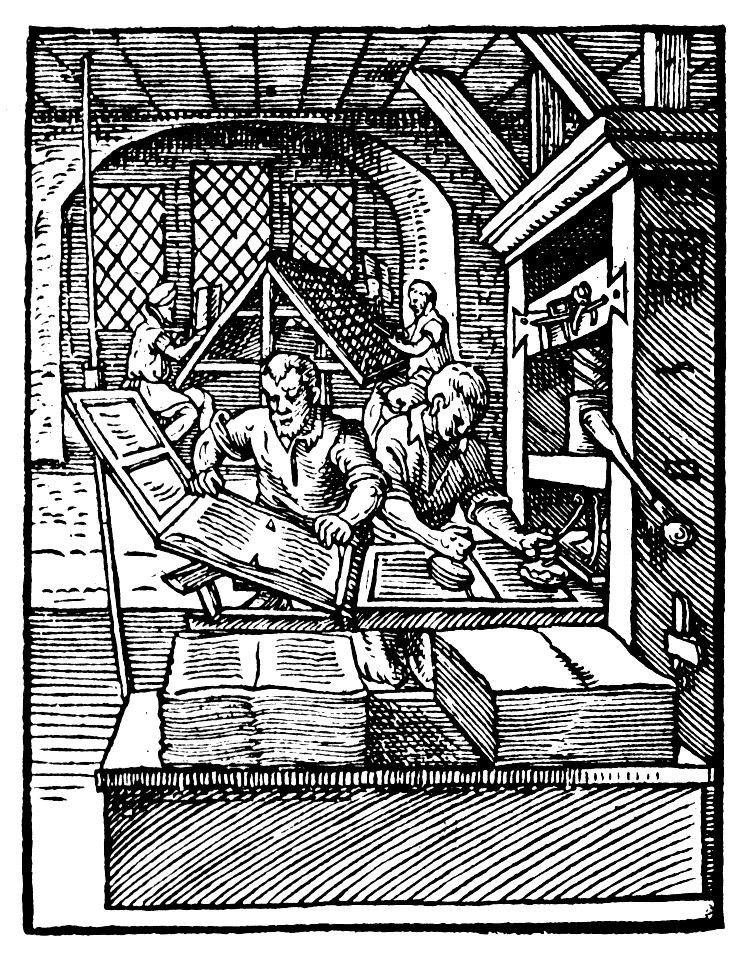 Prior to the HP LaserJet 4, the most popular printer was the Printing Press invented by Johannes Gutenberg. But that's a story for another blog post.
Nowadays I tend to go for all-in-one multifunction printers. But a lot of people who don't need the scan/copy functionality could save on the cost by getting a simple printer. There are plenty of those on the market
Here are the important things to consider in a printer and how my Brother MFC-L3770CDW stacks up.
Brother MFC-L3770CDW LED Printer Features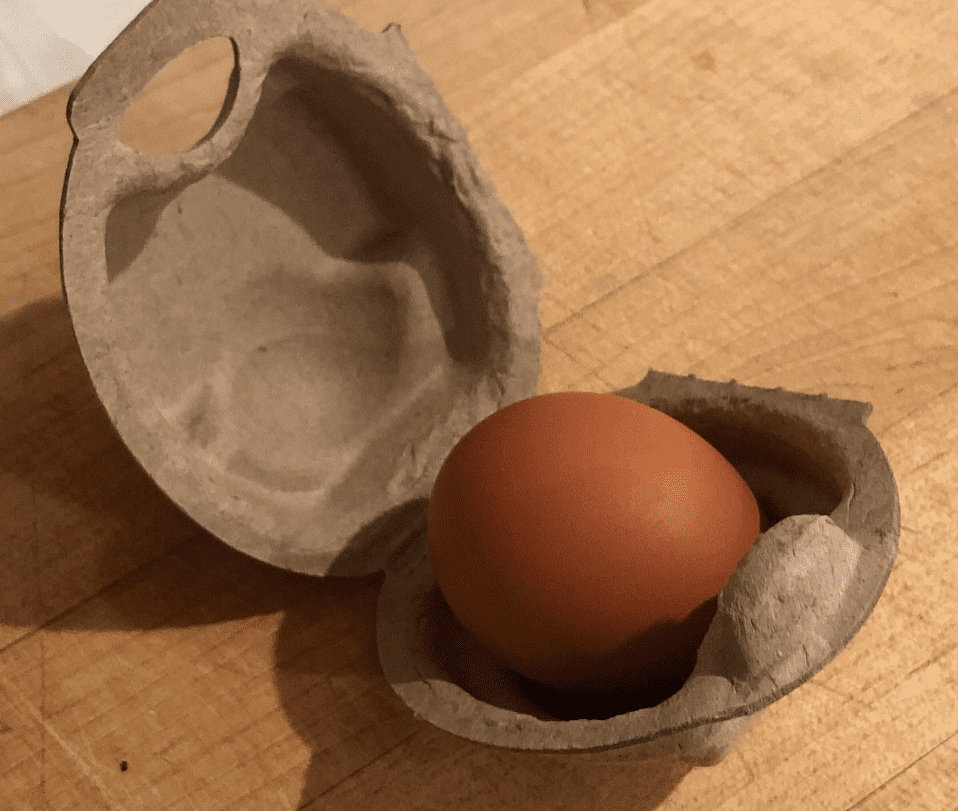 LED Printer. There are two main printing technologies, Inkjet and Laser. Inkjets produce higher-quality photos and do a lot better on photos. But cost a lot to run. Most inkjets have low-capacity cartridges. My last Canon's Inkjet cartridges held 13 mL of ink. It's like buying a carton of one egg.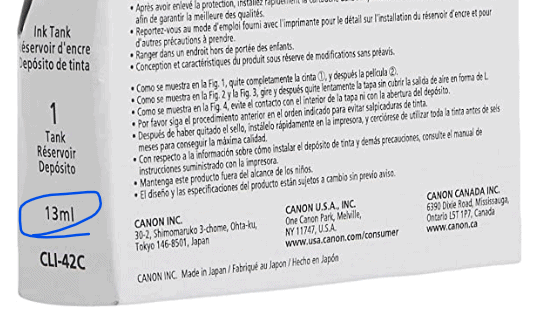 In general, Laser printers print sharper lines and text and have cheaper operating costs than inkjets. You'll get somewhere between 2,000-9,000 prints out of a single toner cartridge. But some inkjets are not quite as bad with the newer tank printers such as the Epson EcoTanks that can be refilled with bottles of ink. Fill it up with generic ink, and it's really inexpensive.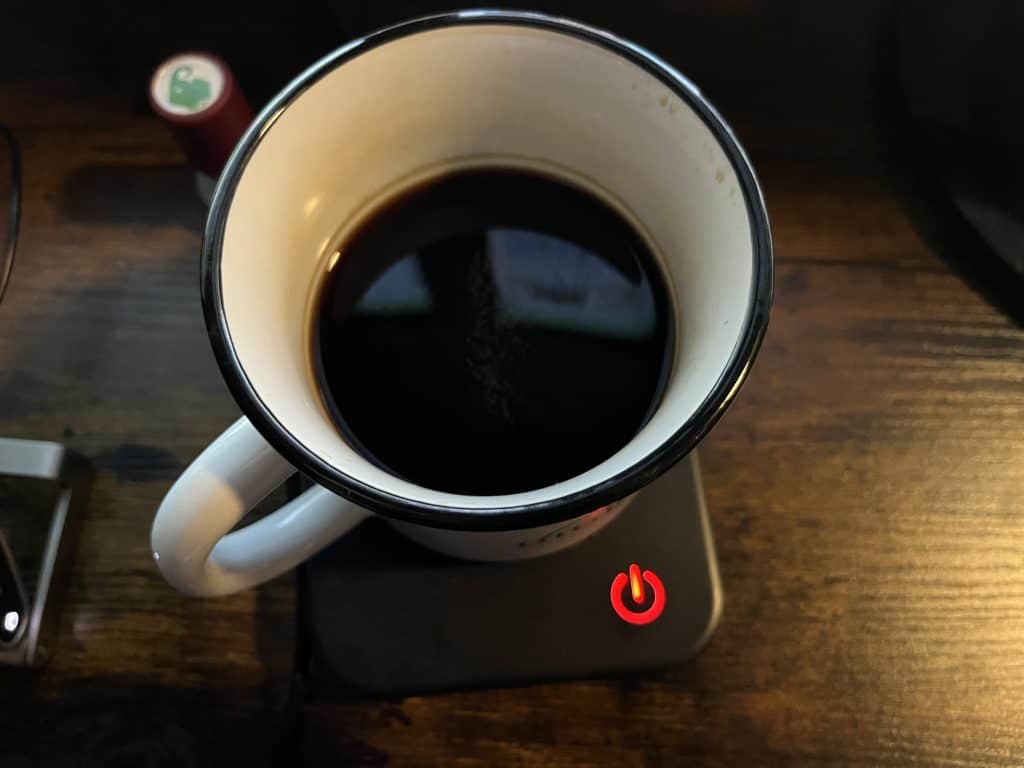 But the Problem with inkjets is when you don't print frequently the ink will clog up or evaporate and you'll find yourself trying to clean out your printer like the bottom of a coffee mug that you drank all but the last 13 mL and left on the mug warmer all day. Laser printing uses toner which is dry and will last pretty much forever. I don't like ink clogging up so Laser it is.

I also found when I had my photo quality Canon Pixma Pro-100 inkjet printer, even paying for ink that exceeds the cost of silver, the photos still fade a lot faster than the photos I just had printed at Walmart. So my strategy with printers is the 80/20 rule. I spend 20% of the cost on operating a printer that meets 80% of my needs and the rest I have done professionally.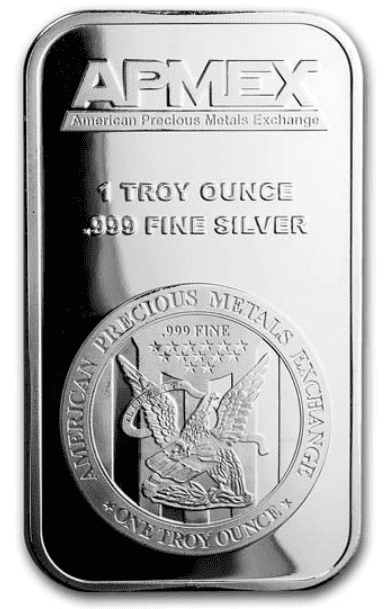 – 1 oz of Silver: $25
– 1 oz of Canon ink that fades: $31

What about LED? LED fits in the laser category but perhaps at a slightly lower tier. A Laser printer is going to have higher precision parts, and therefore cost more to manufacture and take up a larger footprint than an equivalent LED printer. LED printers are smaller, simpler, and cheaper. Some say the quality is not quite as good since a laser is more precise than an LED. Some say the quality is the same. I've never looked at side-by-side prints, so I don't know. That said, the LED prints look okay to me. 🔻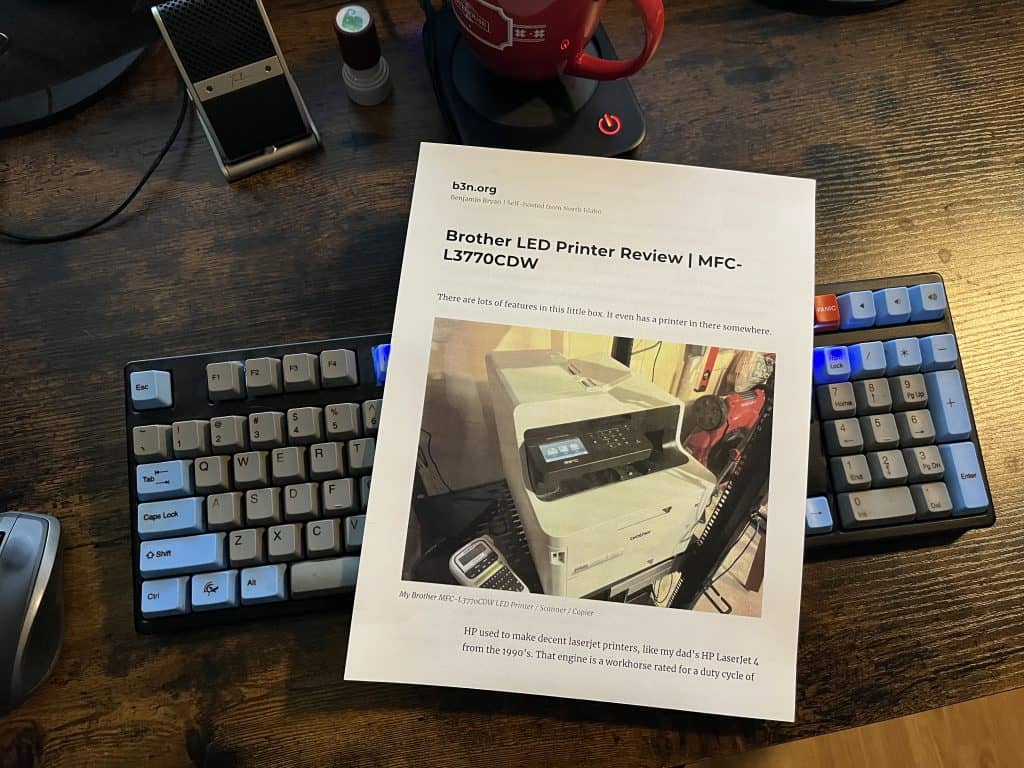 Paper size. An 8.5 width is all this printer supports. I think that's fine. I really liked having that Canon Inkjet that could print out large posters. However, I spent several hundred dollars in ink printing a handful of posters and realized it would have been cheaper to have it done at Staples. The largest size I regularly need to print out is Legal, and it does fine there from the multi-purpose tray.

Reasonable printing cost. Laser toner is inexpensive compared to inkjet cartridges, if you get an inkjet printer the term you're looking for is "tank". Those are usually refillable for a fraction of the cost of cartridges. I suggest looking at the cost of ink before purchasing any printer–see how many prints the refill is rated for to figure out your cost per page.

The "high" capacity Brother TN-227 cartridges are rated for 3,000 (B&W) and 2,300 for color. I can find a four-pack of aftermarket toner for $60. So my ink cost is about $0.02/page monochrome and $0.03/page color.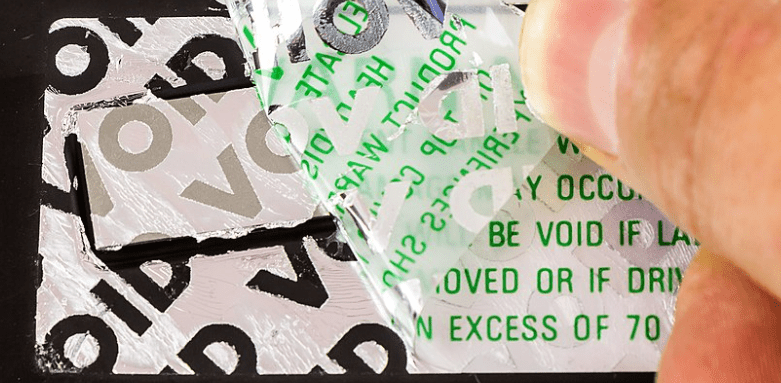 DRM bypass for Generic Branded Cartridges. A lot of printers will lock out generic branded toner cartridges. The Brother has no problems accepting generic brands. This keeps the cost down compared to buying OEM toner. However, it also voids the warranty. So, if you're the type of person to make warranty claims you'll want to stick to the OEM toner.


Out of toner bypass. I liked the old printers that had no clue how much ink remained. They would start printing lighter, but you'd shake up the cartridge and go for another year. Most newer printers still don't have a clue on the actual remaining ink, but they do calculate how much ink you probably have left based on page count and refuse to print once it thinks the cartridge is out.

The Brother printer has a counter on it. However, I don't think it's a problem. Mine started warning me ahead of time, then said the toner needed to be replaced at 3,000 prints, I reset the chip on it to make the printer think it was full. I got another 150 pages out of it before it started to fade, so I shook up the toner and maybe got another 50 prints before it started to fade again. To me squeezing out that last 5% of toner isn't worth it over just replacing the ink when the printer says it's out. That said it is pretty easy to reset the chip on the toner cartridge to fool the printer into thinking it is new (which probably voids the warranty).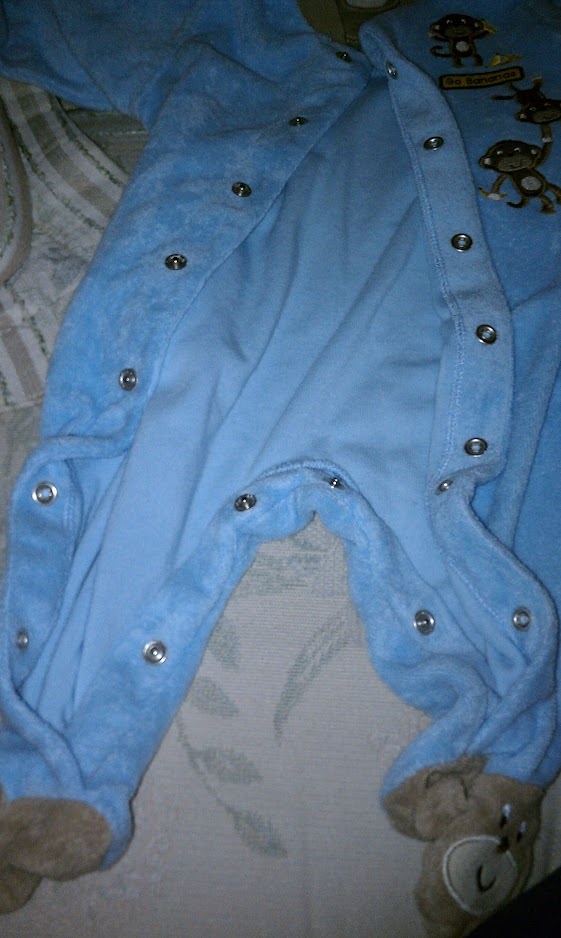 Duplex Printing. 2-sided printing is important to me and a huge paper-saver. Yeah, I know you can run the paper through twice, but trying to figure out how the page is going to flip and rotate is like trying to figure out how the snaps line up on a baby's onesie. You end up printing on the same side twice, or get one side printed upside, or you load the page into the wrong tray and end up printing it one-sided anyway, and then after your third try you think you finally have it right, it's going to work this time, and then someone else sends a job to the printer!

Secure Printing. I don't need this, but if you're in a shared office environment. The ability to print out sensitive data is important, the Brother printer can hold a sensitive job until you enter a pin number.


Color or Monochrome. You can get a cheap printer that only does black, but I like to print in color often enough to justify a color printer. Mine has four separate toner cartridges so I can replace each color individually. My first Brother LED printer was actually a monochrome. I only replaced it because I wanted color.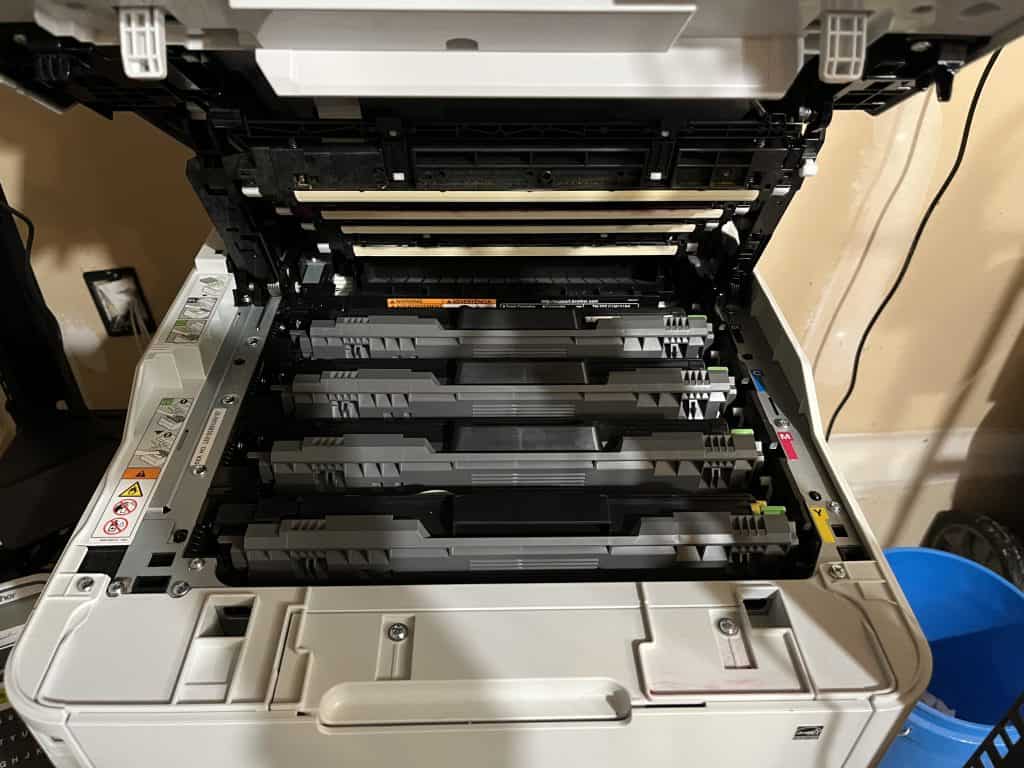 Security updates. A big problem with most printers is they never get security updates. Printers are often an easy target for hackers to compromise. Brother does a pretty good job at security patching. If you have the Brother software on your computer it will automatically check and prompt you to apply updates. And it allows you to change the password required to upload firmware (which you should do) so that not just anyone on your network can upload malicious firmware to it. Now, I wouldn't expose any printer to the public, and ideally printers should be on their own VLAN so traffic will get inspected by an IDS/IPS firewall to mitigate any known exploits and limit what's allowed to print. But a lot of other network printers I've used never get security updates at all!


Flatbed Scanner. Normally I do ADF scanning, but flatbed scanning comes in handy for objects that won't bend or fit in the document feeder.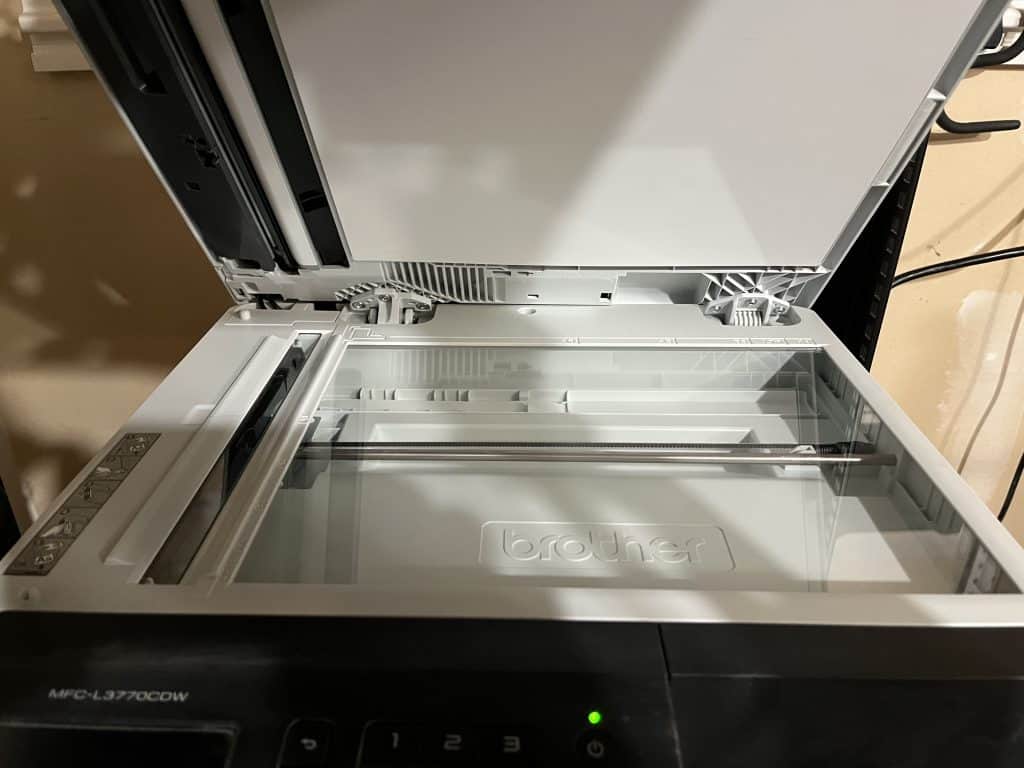 Duplex ADF (Auto-Document Feeder) Scanner. Many multi-function devices have duplex printers. But few have duplex scanners. Even the model just below the one I have, the 3750 only has a simplex ADF scanner. The last thing you want to do while making a quick copy is run the paper through hoping you have the correct orientation to get a copy of the other side.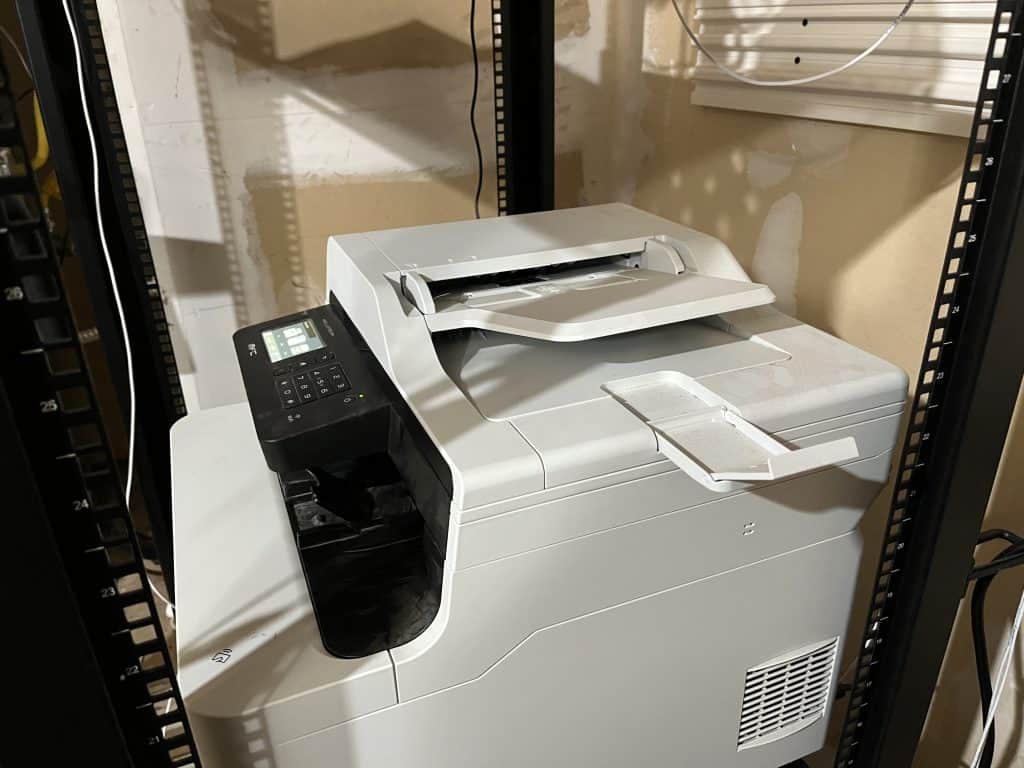 I have gone 99% paperless. The only paper documents I keep are important documents such as birth certificates, contracts with ink signatures, etc.; otherwise, scan and shred. I've found the workflow on the ADF scanner for this printer is not very good so I have a dedicated ADF scanner. I use a Brother ADS-1700W which has a much more streamlined workflow (zero-touch scanning), so I rarely use the ADF scanner on my printer unless I'm just making a copy.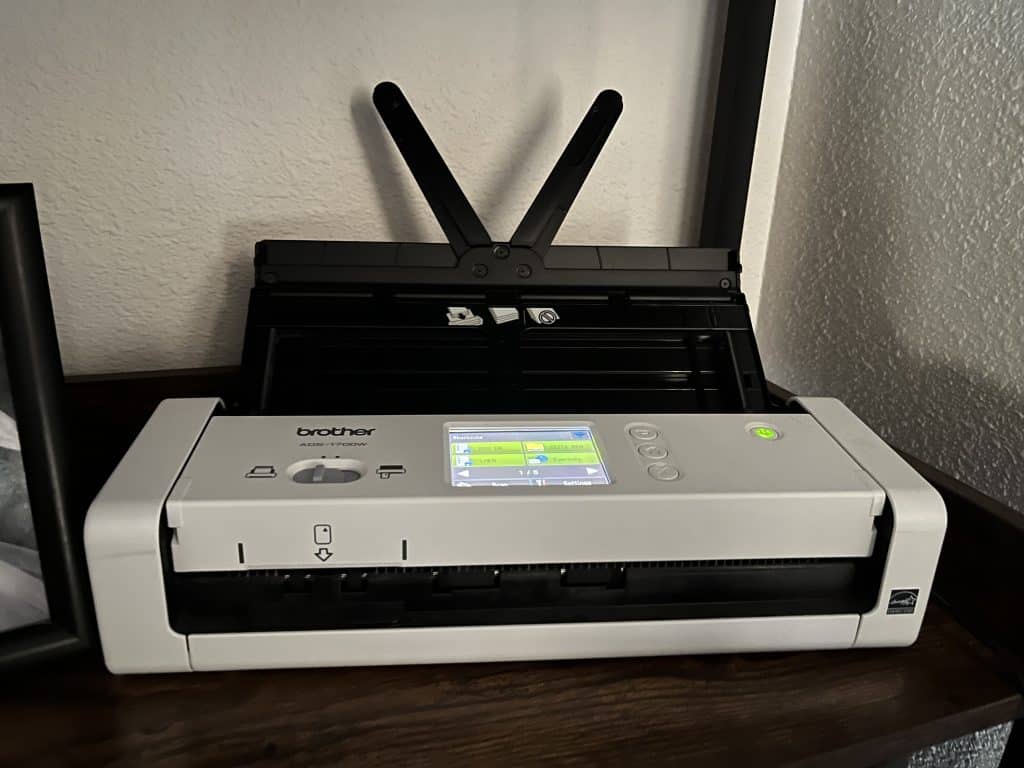 OCR Scanning (lacking). Optical Character Recognition. Now, I must complain about OCR scanning on the brother. I expected the Brother to have onboard OCR. But that's not how it works. Instead, the scanner relies on your computer to do OCR with special software. This works except when your computer is asleep. It wouldn't be so annoying except the Brother scanner won't queue up scans and send them over to your computer later on when it wakes up. Instead, it just refuses to scan, and I have to walk back to my computer to wake it up, then walk back to the printer to scan again. Pretty much all multifunction printers with "OCR" don't actually have OCR on the machine. I don't know of an alternative brand that handles this better unless you're willing to spend several thousand dollars.

I found the Brother OCR process too manual anyway and not worth using. I found the best workaround is to use a Document Management System (I use Evernote) that runs documents through OCR independent of the printer.


Copier. Of course, having a scanner also turns your printer into a copier which is nice to have from time to time.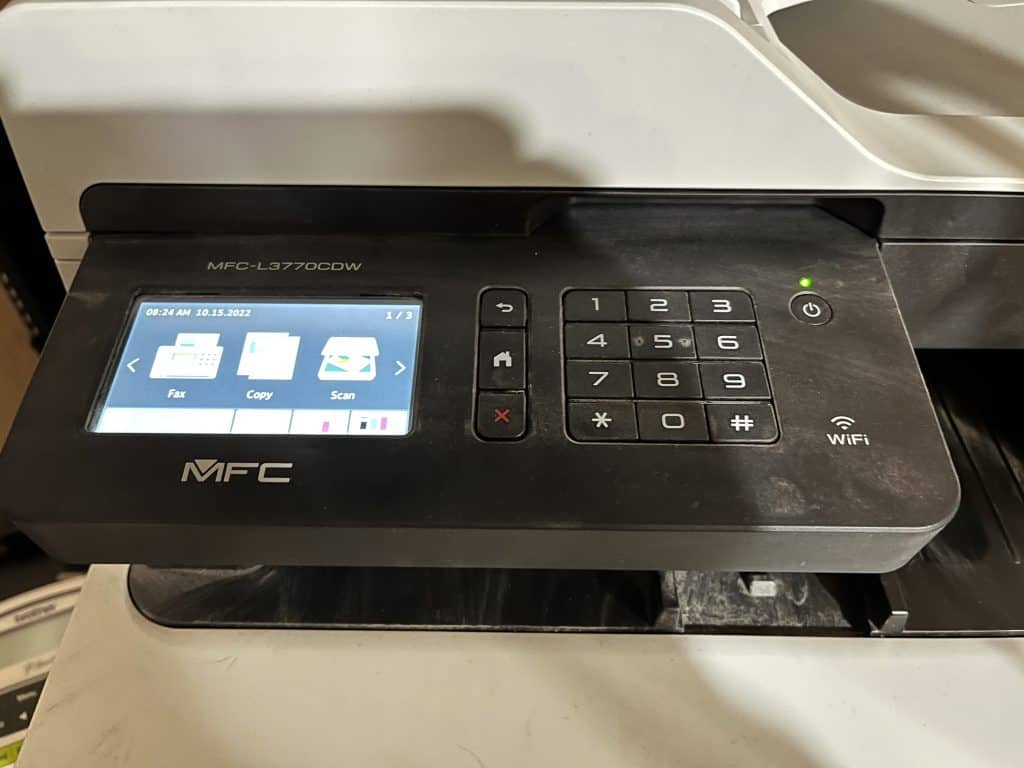 Ethernet port. Most printers have wireless, but I keep my printers for a long time, and the older WiFi chips will slow your entire wireless network down and become less secure over time. It's better to hardwire into your ethernet.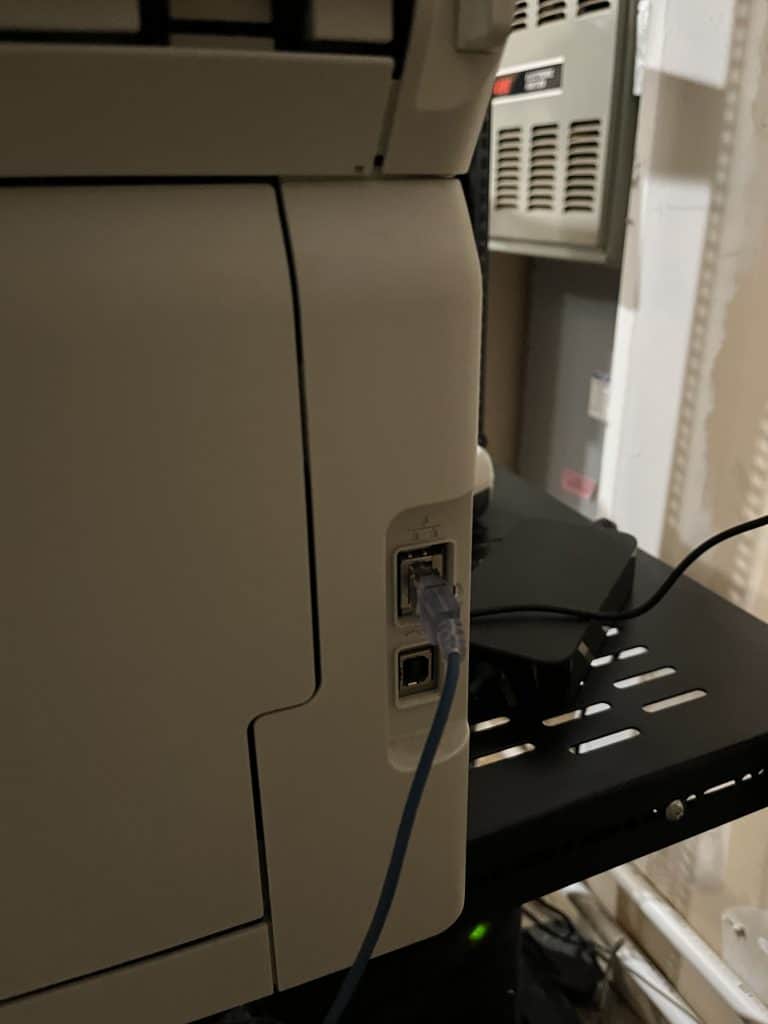 OS Drivers: Linux, Mac, and Windows Drivers. Brother has Linux drivers, but lots of other branded printers don't.


Android and iOS print. Sometimes I'm trying to get a quick print right before church, and my computer is installing Windows updates (because it knows to do that on Sunday mornings apparently), so it's nice to be able to print from my phone in a pinch. I don't need it often, but when I need it I need it.


Multiple Trays (Lacking). Mine doesn't have multiple trays, and I wish it did–I'd fill my second tray with mailing labels since I often print mailing labels at home for USPS pickup. I can use the multi-purpose tray but, that requires an extra trip to the garage since I don't like to leave the MP tray loaded all the time.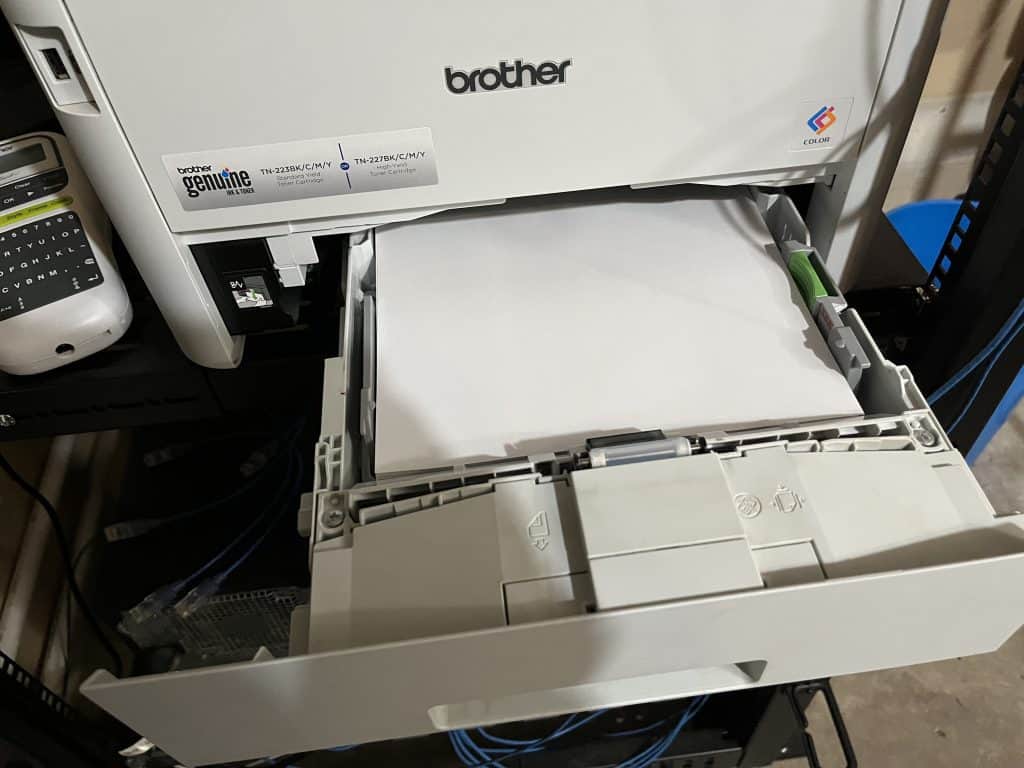 Multipurpose Tray. At least we have a multi-purpose tray!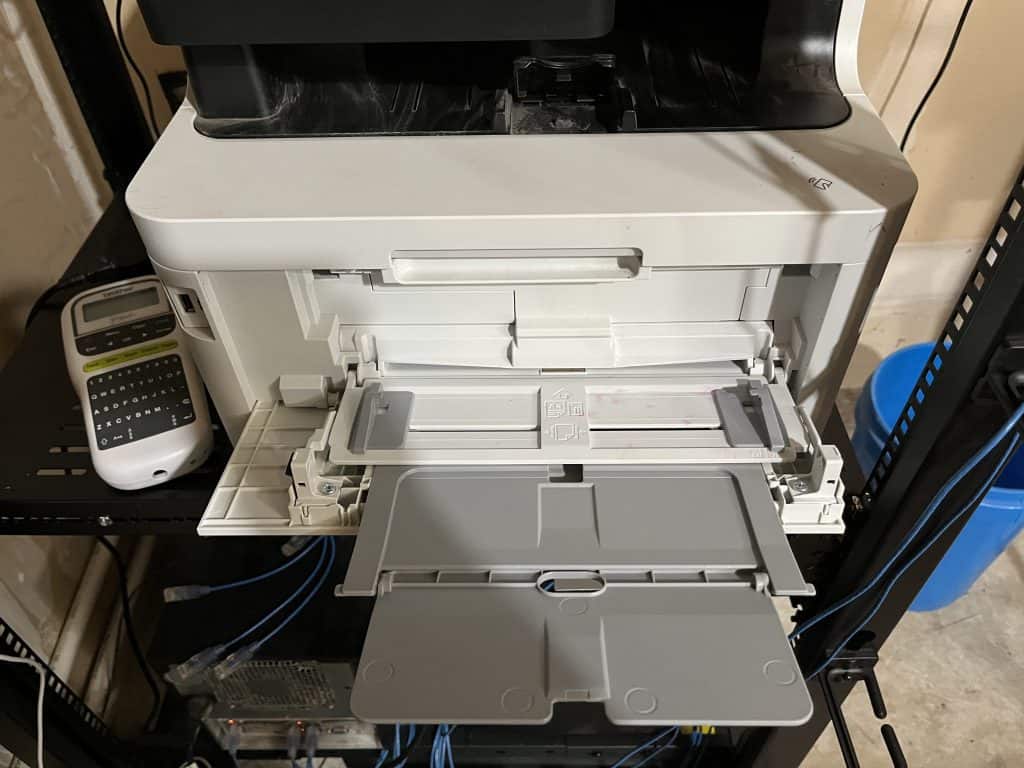 Fax Machine. This is one of those features you'll probably never need, but even as recently as five years ago my health insurance required me to submit medical claims via fax (They really didn't want to pay out). So you never know when it will come in handy in a pinch.


Duty Cycle. This is good to pay attention to. Mine is rated for an average 1,500 pages (3 reams) per month with a peak of 30,000 (60 reams) pages per month.

We print an average of 168 pages per month, so we are well within the recommended duty cycle.

The HP LaserJet 4 by comparison has a 20,000-page monthly duty cycle rating. To be fair the HP LaserJet 4 was priced at $2199 when it launched in 1992 ($4650 in today's dollars). I do think the Brother being about 1/10th the cost is a better deal. I'm hoping to get 25 years out of this printer, and I think it will make it. I foresee replacing my printer twice or thrice in my lifetime but likely not 10 times, and with the time-value of money, you'd probably have to replace a Brother 30 times within your life to make something as overengineered as the HP Laserjet 4 a better value.


Serviceable parts. A lot of cheaper printers are not serviceable and just have to be tossed after a few years when the parts wear out. Mine has replaceable parts for maintenance cycles for the drum units, fusers, feeders, belts, etc. Most parts still have a lot of life remaining.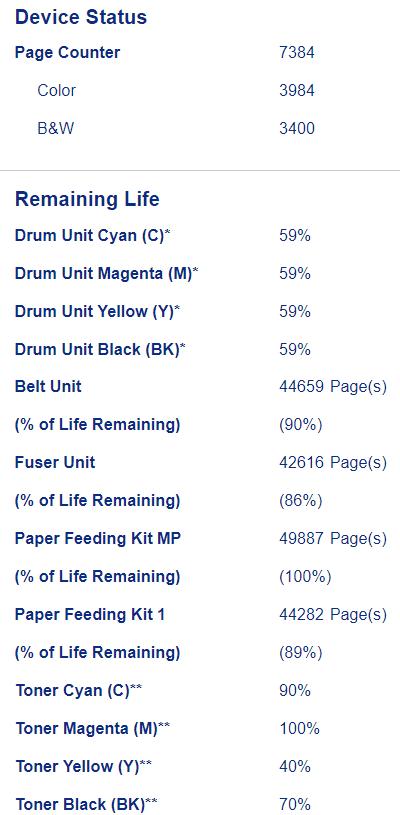 Memory. 512MB is sufficient. Enough memory is important as it allows for more complex and larger prints without buffering which slows down the print job, or the dreaded printer "out-of-memory error".


Speed. I've seen some pretty slow printers in the past, this one prints 25 pages per minute for monochrome or color. I normally leave it on standby, so the printer has to warm up, so it takes about 15 seconds from print to the first page coming out. That's about how long it takes me to walk over to the garage anyway. ADF scanning is about the same.


Reliability. The Brother delivers. According to the log, out of the 7384 pages printed, I've had 8 paper jams in total. Almost all the jams were while running weird paper such as thick cardstock or envelopes and forgetting to turn off duplex. For normal paper, the jam rate has been at or near zero.
Problems, Complaints, and Downsides.
Magenta ink splotches. So this is not really the printer's fault. Remember how I said I use cheap generic toner? I had a problem where color prints resulted in random magenta ink splotches. I opened up the case, and it turned out magenta toner was all over the place! I ended up cleaning out all the magenta dust and just replacing the leaking cartridge. But I kind of do think it's Brother's fault in a small way because their genuine toner is so expensive ($350 verses $60 for aftermarket) nobody would even use it over OEM ink.


No Onboard OCR. Should be onboard.


Bad scanning workflow. Scanning always requires pressing several buttons. There should be one-touch scan buttons. If you scan to a computer and your computer is off the printer won't buffer the scans until your computer is back up. I just use a dedicated ADF scanner as a workaround.


Outdated UI. The web admin UI is a little dated.


Fax requires a POTs line. Would love to have an integrated pay-as-you-go cloud fax service for occasional use.


More trays. I'd love to have one more tray I could always keep loaded with different paper, such as my mailing labels. But this model doesn't support adding more trays. For that, you have to go to their business models but at a much higher cost.


Occasional smudge/streaks on printing. I'm not sure if this is the printer's fault or the cheap generic toner's fault, but sometimes I'll get these horizontal streaks, I saw some when printing out a draft of this post along the left side of each page. Usually cleaning out the drum roller fixes it but still annoying.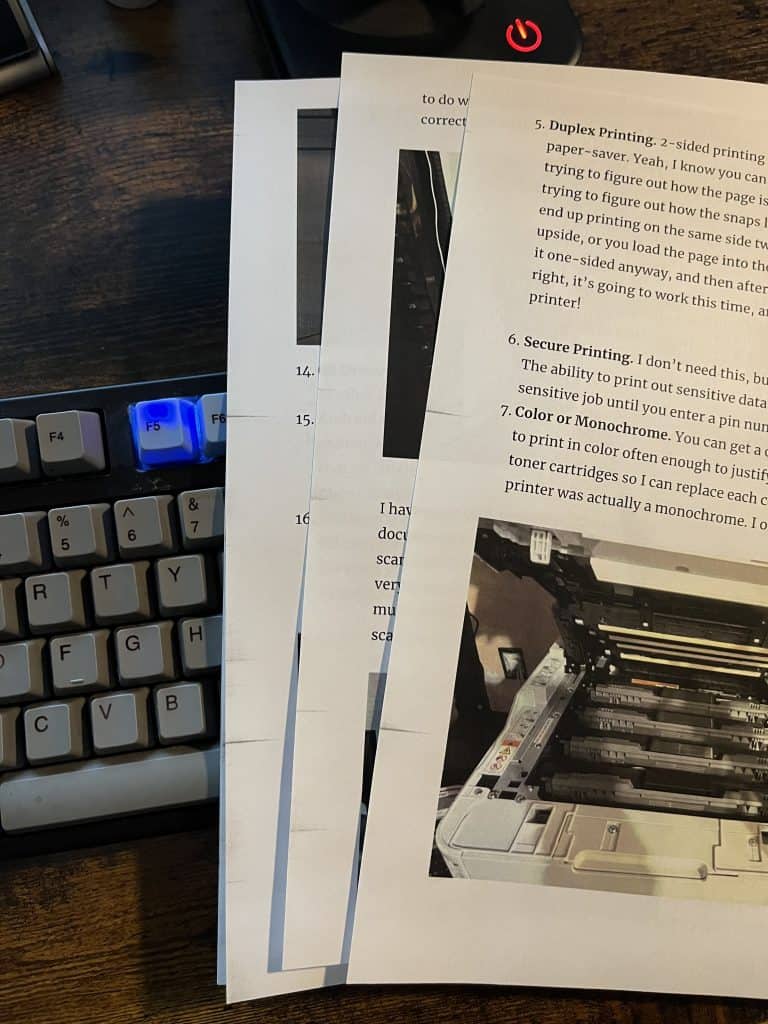 …
While it isn't perfect, I don't know of anything of better value than Brother printers in general if you're running less than 3 reams a month on average. Where else are you going to spend 3 cents on color ink per page? I'm sure there are a few other good printers, it just seems hard to come across good models nowadays. I'd be curious to know what printer you're using.

"Printing is the ultimate gift of God and the greatest one."
— Martin Luther