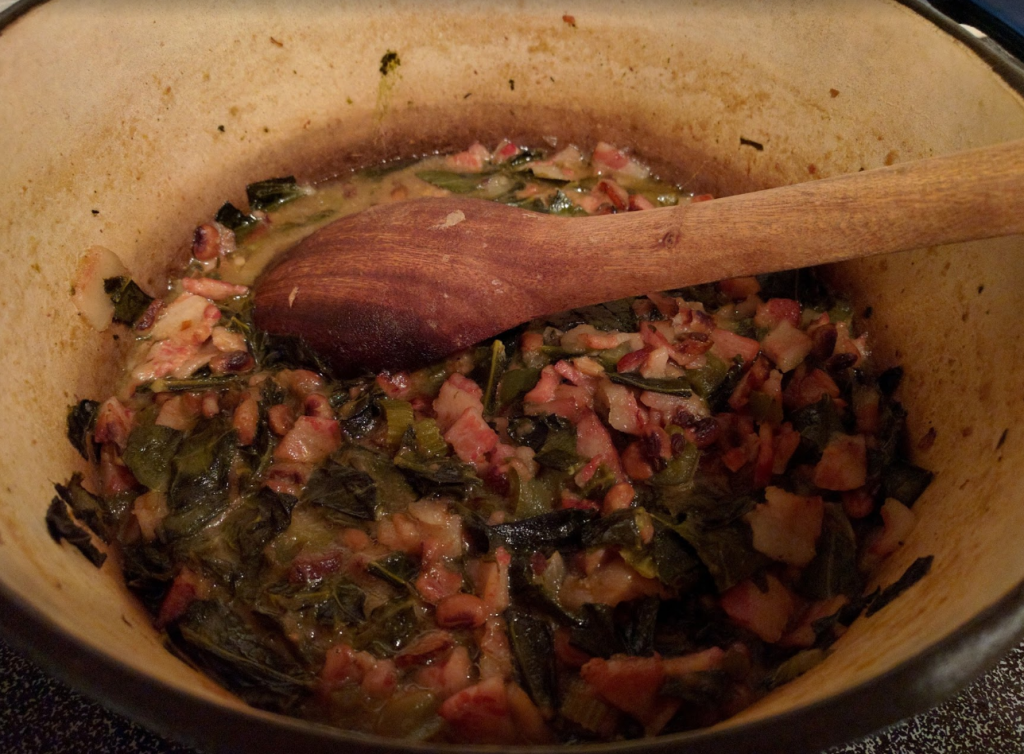 I didn't get a chance to make my annual King Cake this year for Eli's birthday since I was away most of the day. But when I got home Kris surprised me by making not only gluten-free dairy-free King Cake …but also Hoppin' John!
A popular New Years' meal, Hoppin' John was traditionally eaten in the southern United States to bring in wealth and prosperity for the New Year. I think the meal was lesser-known among wealthy people, the point of it was that it was inexpensive. In fact, if you have it for leftovers the next day the meal is called Skippin' Jenny which only adds more to the New Years' prosperity–probably because of one's frugality.
Robert Moss has an excellent article on the Historical Problem With Hoppin' John which explains that our modern Bacon, Rice, and Peas are so degraded which is why we have so many ingredients in modern recipes to try to get back the traditional flavor. That said Hoppin' John is one of my favorite dishes, right on up there with Shrimp Gumbo. Here's more or less what Kris put it in it (roughly based on Gigi's Hoppin' John Soup recipe)
Ingredients
1 Tablespoon olive oil
1 cup onion, diced
1 cup green pepper, diced
1 cup celery, diced
1 Tablespoon garlic, minced
1 lb ham, chopped
1 can black eyed peas, not drained
1-2+ cups stock or broth (may add more to adjust to desired thinness)
6 large collard leaves, washed, dried, and chopped
½ teaspoons red pepper flakes (can use upto 1½ teaspoons if little ones aren't eating)
½ to 1 teaspoon sea salt, to taste
¼ teaspoon black pepper
¼ tsp dried thyme (may substitute parsley or rosemary)

Instructions
In a large soup pot over medium heat, heat olive oil and cook onions, carrots, green pepper, and celery until tender, about 5 minutes.

While the veggies cook, wash and remove center rib from collard leaves by cutting leaves in half length-wise and discarding center rib. Stack the leaf halves and chop; set aside.

Add garlic to the veggies in the soup pot and stir 1-2 minutes, until garlic becomes aromatic. Add ham and peas with liquid until simmering, about 2 minutes.

Add broth, collards, red pepper flakes, salt, pepper, and thyme, and stir. Cover the pot and simmer over medium-low heat for 30 minutes. Check occasionally and add broth as needed to keep food from sticking to the bottom of pot.

Remove the lid. Stir and check vegetables for desired firmness/tenderness. If needed simmer an additional 15 minutes and add broth as needed.

And of course it's good to cook it in advance and let it sit for a bit.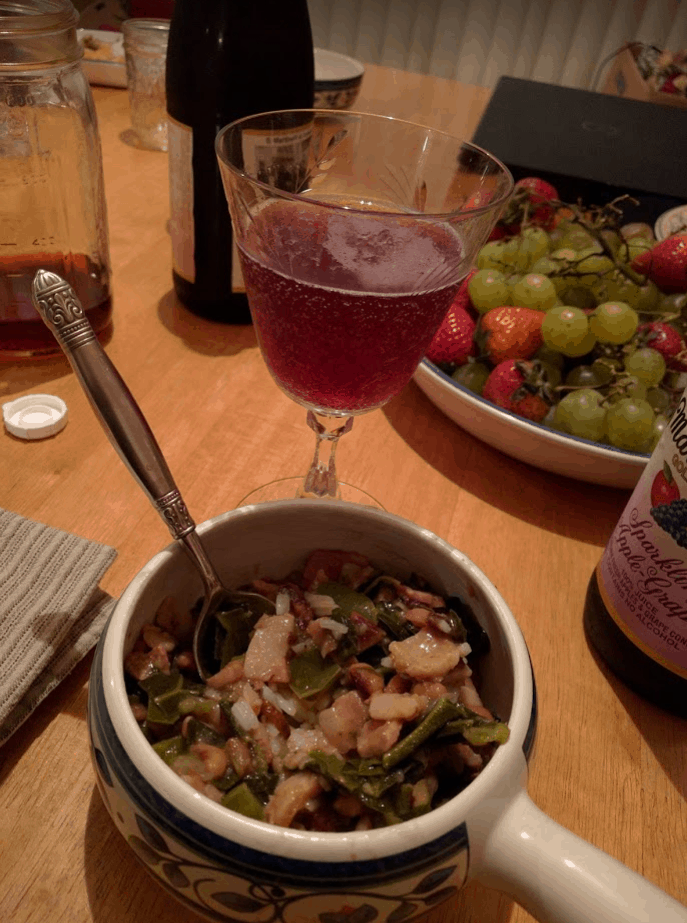 Since the rest of my family is gluten and corn free we didn't have French Bread slathered in butter or Cornbread, but if you can eat those things I highly recommend having one of those for your side.
Of course, the King Cake, was great too!