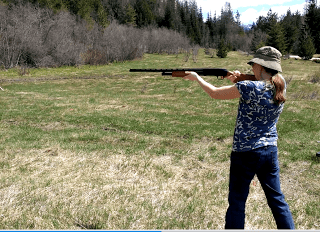 Kris actually hit some targets!
In January I picked up a Mossberg 500 and finally got a chance to shoot it this weekend.  Dave & Melody (and their puppy) came along and showed us a great shooting spot not too far out of town.  This was Kris's first time firing a gun and she did very well, even hitting the targets!  We also got to try some of Dave's guns, including a Taurus .40.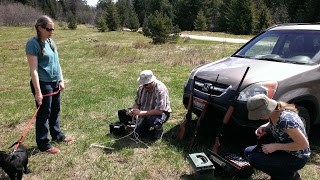 Anyway, the Mossberg 500 performed well, it's a great multi-purpose shotgun and can be used for home defense or hunting anything from small fowl to moose.   A few observations / thoughts:
The two most popular pump-action shotguns are the Mossberg 500 and Remington 870.  They are both great guns, I went for the Mossberg because of the ambidextrous tang safety (I'm left handed).
12-gauge is very versatile and you can get shells for just about any purpose from bird-shot for waterfowl to refiled slugs for Moose hunting.
I wanted a pump-action because they're extremely reliable (and also a lot cheaper) compared to semi-automatics.  The action can be worked very quickly.
It's designed to work under harsh conditions; built with loose tolerances like an AK-47, it will fire in just about any condition even if it gets dirty and wet.
Magazine holds 5 shells and can drop a sixth round directly into the chamber.  Mossberg also sells tactical models with a shorter barrel and extended magazine that holds 7 or 8 shells but that more than doubles the price in the current market.
The kick isn't bad with #7 target shells, but both Kris and I had sore shoulders after going through 40 rounds.  If I was only going to target-shoot all day I'd probably go for a 20 gauge, but I think 12 gauge is the best for an all-purpose gun.