I've had a few people ask for more details on my rural internet setup with Verizon, so here it is…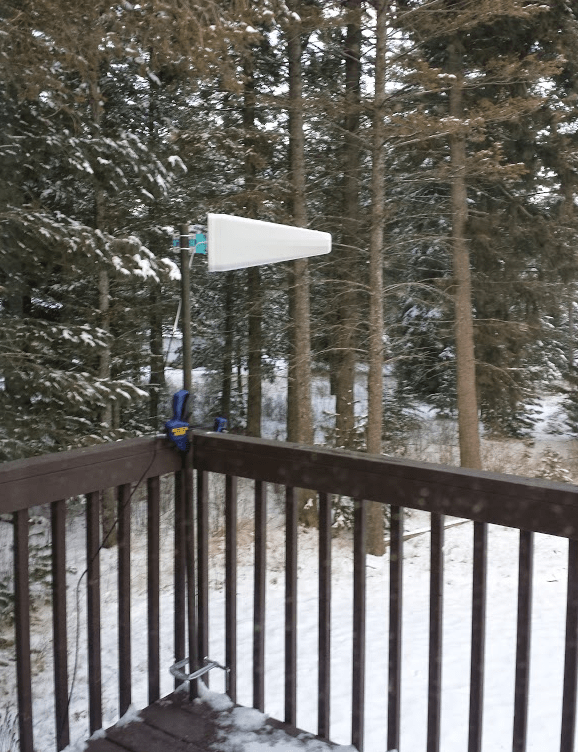 Update 2018. It has been 4 years since I wrote this post. I would suggest getting newer equipment than what I blogged about, I know a few people running the CradlePoint MBR1200B which is what I currently recommend instead of my older equipment below. I would also pair it with the Novatel Verizon U620L 4G LTE Modem. Original post below…
I use a CradlePoint MBR95 3G/4G Router ($130, it's expensive but I have tried several cheaper 3G/4G routers–CradlePoint is the one to get. It's well worth the extra money). Since switching to this router a few months ago I have not had a single connection drop.
I bought a 4G Novatel 551L USB Modem ($25) which is plugged into the CradlePoint, and just recently I installed a Wilson 4G LTE Antenna kit ($80–the antenna adapter fits the external antenna port on Millenicom's Novatel MiFi, the Novatel USB modem above, and my Samsung S3 / S4) to see if it would increase performance on my Verizon Wireless connection… and it did! Signal went from -81 to -63 dBm (I think that's quadrupling the signal strength?) and internet speed went from 12Mbps/3Mbps to 20Mbps/15Mbps!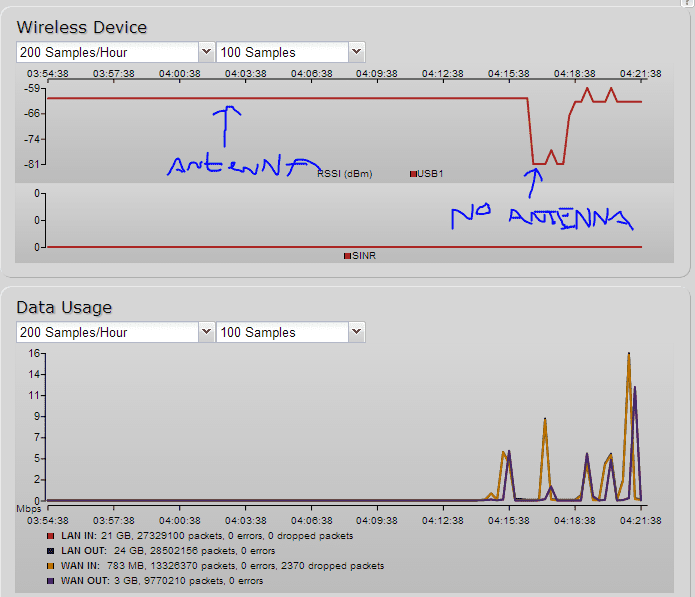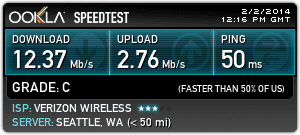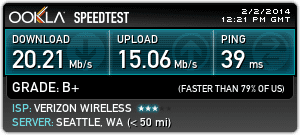 Verizon Wireless Data Options
Grandfathered Unlimited Data Plan
Update 2: Verizon Wireless may not be allowing transfer Unlimited Data Plans. The below may not be possible anymore.
Verizon doesn't offer unlimited data plans anymore, but if you had one you're grandfathered into it. It's possible to transfer someone else's grandfathered plan into your name. So I bought a Verizon Wireless grandfathered unlimited 4G data plan from someone on Howard Forums Take over my plan forum (you can also buy them from eBay, they're a little pricier there but the transaction will be safer).
The process for me (before Verizon made it difficult to transfer the plans) went like this: Ahead of time I bought a Verizon Samsung S3 phone with a clean ESN off eBay (you need an Android phone, you can't activate the plan on a USB modem) and a Verizon SIM card off ebay. After the seller and I agreed on $175 I sent the money to him via PayPal and gave him my name, he called Verizon's Assumption of Liability (AOL) department to tell them I'd be taking over the line, then he gave me the number I would be taking over. I called Verizon's AOL department and told the rep the number, she verified the details on the plan and then transferred the line into my name…I didn't have a Verizon account so I had to set one up over the phone and they will run a credit check–and Verizon does a hard pull so don't do this before buying a house or taking out a loan. During this process it's very important not to switch to one of Verizon's newer plan's that will drop unlimited data. I made sure the rep knew I wanted to keep unlimited data. After it was switched into my name I gave the rep my phone's MEID number and SIM card number and activated the phone… it took awhile, maybe 5 minutes. I made a test call and tested data with the rep still on the line. It all worked! Once it was activated I moved the SIM card over to my USB modem (which Verizon allows).
The plan I got is the NationWide 450 (there's no way to drop the voice part of the plan even if you don't need voice) with unlimited data. I was able to have the rep disable texting. This runs me about $65/month including taxes with my 18% corporate discount.
The only thing I've been disappointed in is they give me an IP address behind a NAT so I can't host this blog from my house any more. Verizon does offer a static IP for a one time fee of $500. If I knew that Verizon would allow me to keep unlimited data for at least 3-years or give me a refund on the static if they canceled my plan I'd do it…but without a guarantee I don't want to take the risk. I run a SoftEther VPN server in a VM on my Microserver which uses a UDP hole punching technique to get around the NAT so I can still get into my home network to access files on my ZFS server and such.
I'm grateful that Verizon is still allowing grandfathered plans on their network so while I'm no longer careful about internet usage I try not to abuse it. I have all my data intensive processes like CrashPlan backups run only between 1am-4am when I figure Verizon has plenty of bandwidth and spectrum available.
Of course, Verizon may discontinue grandfathered unlimited plans in the future… but I hope it lasts until someone brings DSL, cable, or fiber to my house.