I bought Eli his first gun, a Daisy Buck Model 105.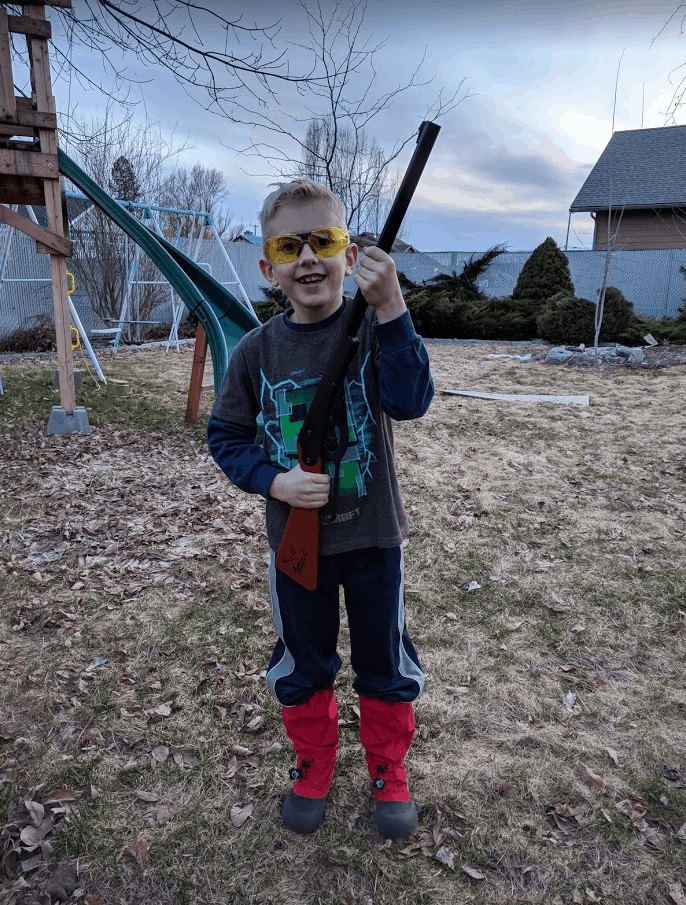 It is very similar in function to lever action rifles (lever action works the same, cross-bolt safety is the same) so it's a great starter gun to teach proper firearm handling and safety.    It was $18 at Walmart but has quality where it counts.  The stock is real wood with an engraved image of a buck.   The barrel and receiver are metal.  The only plastic part is the lever but it's rugged and shouldn't break.  If properly cared for I don't see why it wouldn't last several generations.

There's no recoil and it's quiet enough to shoot in the backyard.  The lever action does take some effort to work.  Eli struggled with it at first but after a couple tries he doesn't have any trouble cocking it himself.  The gun shoots 0.177 caliber BBs which run a couple of dollars for 2,400 rounds.
I found out Daisy has been around since 1886 with an interesting history.  They've been making air guns for a long time.  They started out as a windmill company that started offering a free air rifle to farmers with the purchase of a windmill.  A few years thereafter they stopped making windmills.
Daisy advertises it for age 10 and up, I think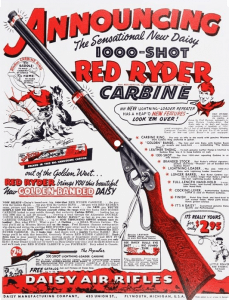 the age is listed for legal reasons more than size.  For fit I'd say it's sized for 6 to 10 year olds at 30 inches long.  For younger kids new to guns the shorter length will be easier to manage.  If I was buying for someone over age 10 I'd probably opt for the infamous Daisy 1938 Red Ryder which has a longer stock and is 35 inches long.
BB's can ricochet so keeping a safe distance from the target as well as shooting glasses are a must.  The instruction manual has directions to build a target stuffed with newspapers with magazines at the back that will absorb BBs.  I placed the target in front of my shed but in case he misses the target I set behind the target a sheet of plywood which I angled down to cause any ricochets to bounce down into the ground.  So far this has worked well.  For targets we use milk jugs or print our own.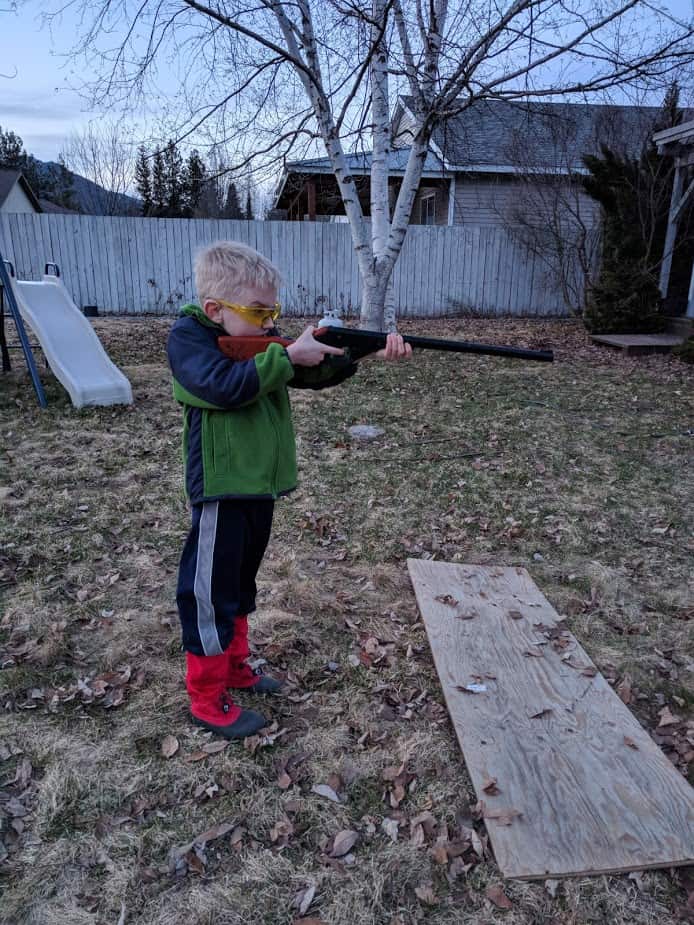 I think it's good to teach children how to use guns when they're mature enough.  It gives them a chance to develop responsibility and character while having fun and learning a useful and important skill.
Brady has a great Gun Safety Information page.  Before Eli could have ammo I taught him 3 safety rules:
Always point the gun in a safe direction especially away from people, even when it's unloaded or the safety is on.
Always leave the safety on until you're pointed at the target.   I make him turn the safety on before he puts it down or hands it over to me.
Always keep your finger away from the trigger until you're ready to shoot.
I'll teach him more as he gains skill.  We treat the BB gun the same as my firearms.   The gun is unloaded after each use and is stored in a safe location where nobody else can get to it, separate from the ammo.  I think it's good to teach proper gun safety and responsibility from the start.  The best way to do that is by example.