Kris and I finished watching the Genesis and the State of the Culture speech that Ken Ham and Dr. Georgia Purdom gave at the University of Central Oklahoma.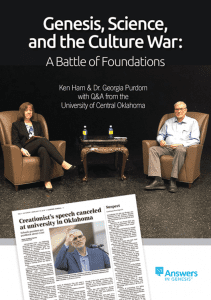 To give some context, the LGBT group at UCO tried to stop Ken Ham from giving this speech.  At some point the student body that invited him was pressured into revoking the invitation [1].   Later Ham was re-invited by UCO President Don Betz.
This is a well done overview of what Christians believe and why it is reasonable.   Ken ham gets to the heart of the issue which is foundational and shows how making your foundation God's Word or Naturalism affects ones beliefs on race, gender, abortion, etc.   After Ham's presentation, Dr. Purdom makes the distinction between Natural Selection and Evolution (this is an important difference that even my University professors were not all aware of) and gives several examples of how Evolutionists do not have a mechanism to generate novel traits which is necessary for molecules to man Evolution.
I highly recommend watching it:
"So, one of the things I am saying to you is from a biblical perspective we've got the answer to racism.  We're all descended from one man.  We're all equal before God.  We're all sinners.  So we should be treating each other as people who are all family."

— Ken Ham
"There are evolutionists that still say junk DNA is junk even though there have been multiple observable science research studies showing it is not, showing it has function.  It shows you that this is a worldview issue.  Even though the evidence is staring them in the face, they refuse to believe."

— Dr. Georgia Purdom
[1] https://answersingenesis.org/religious-freedom/university-denies-free-speech/