I'm almost finished with the LastPass Guide eBook! …I just have to write it.
Actually, it is nearly done! It's exactly 128 pages. But I'm going to have to write one more page causing a buffer overflow!
Launch Date is set for: February 8th
I just finished the LastPass Guide Landing Page! This is the first landing page I've ever made so let me know in the comments if you have any suggestions.
Also if you haven't read it yet, here is the original announcement about writing the LastPass Guide.
First Physical Prototype… I should note I'm not planning to sell physical copies, but I was curious what it would look like printed. If you do want a physical copy you can print it out and bind it yourself. Here is a prototype Kris made: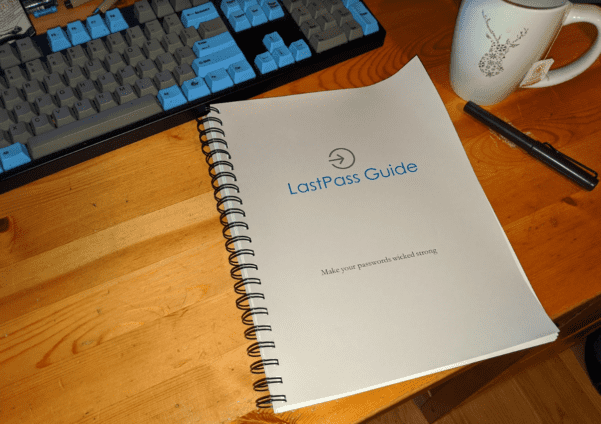 If you decide to print it out, it is against my wishes that you should do so in black and white. I did a lot of work to make this in full color so please print it in color!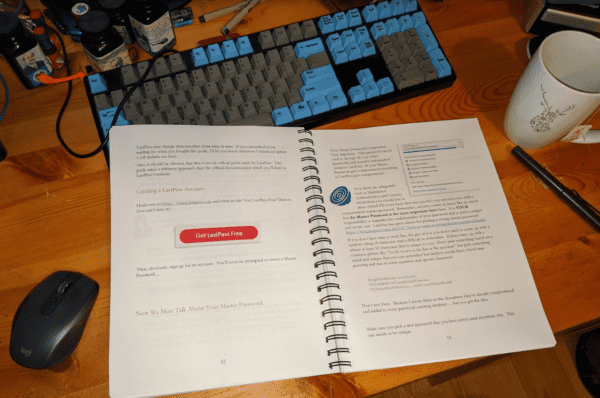 Overall thoughts on Progress so Far
It's been a lot of work–but the feedback from reviewers has been positive. I'm happy with the eBook and I know people who read it will benefit from it. It turned out a lot better than I had envisioned.
It's been a fun project, once it's out I'll try to post a retrospective about the challenges, the process, what I learned and what I would do differently for the next book.
Remaining Tasks
Here's what I have left… hoping to get these finished up this weekend.
[ ] Complete final round of reviews / edits
[ ] Photography
[ ] Run several test orders through
[ ] Launch to email subscribers
[ ] Launch to general public
Well, that's it for now.