When Pops was a teen he and some of the older boys would sneak out of church and hang around outside. One day a handful of young kids fell asleep and their parents took them out and put them in the back of their wagons or cars, and returned to the service. My Grandpops and friends thought it would be a good prank to swap all the sleeping kids. To my grandfather's delight, the parents didn't check and went home with the wrong children. Of course not everyone had a phone (think party lines) so it was a mess and took all afternoon for the parents to sort out the kids and get them to the right families.
I'd often ask Grandpops to tell me a story from his childhood. He had a lot, but that was my favorite.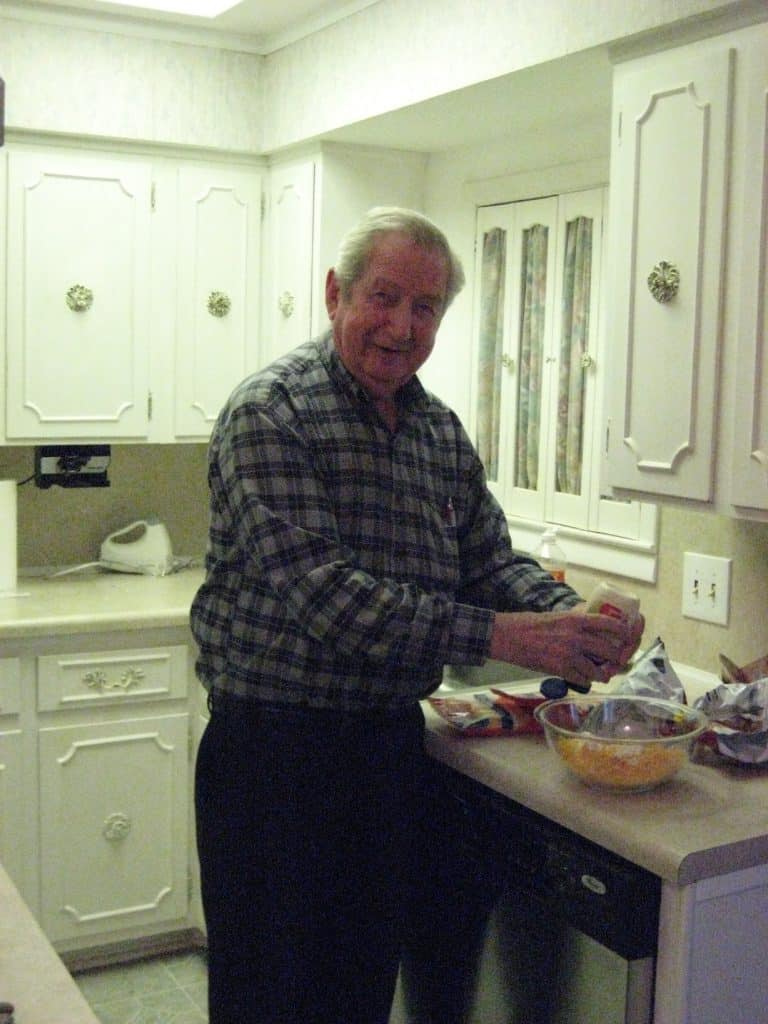 Grandpops married my Grandma Bee right before deployment in the Korean War. At some point while in Korea he was supposed to hop on an aircraft for transport, but someone else needed the seat and bumped Pops off the plane. It was shot down. Since he was still on the flight manifest, Grandma Bee was informed that he had died in the crash. Grandpops knew that would happen and told me as soon as he was able, he found a radio operator who relayed a message to an operator in the U.S. who took down the message and sent a post card to Bee to let her know he was still alive.
The one word I would use to describe Pops is warm. When he calls on the phone he sounds eager to talk to you. He would ask me how things were going with my computers even though he knew very little about them. He has a cheerful disposition, I always loved his warm greetings when arriving at New Orleans to visit. He would be right at the gate (which was allowed in those days) waiting for us; he'd help us with the luggage and we'd be on our way home where Grandma Bee had something cooking (if she didn't come to the airport as well). I remember us laughing together while he read the comics to me, especially Calvin & Hobbes.
Gray hair is a crown of glory;
it is gained in a righteous life. – Proverbs 16:31 ESV
When I was older I visited New Orleans by myself, and Pops took me on a private tour of New Orleans. It was my favorite tour because of his rich historical knowledge of the places and events, many that are probably lost to history. One of my favorite places he'd take us to in New Orleans was the Cafe Du Monde, where you can get Chicory Coffee mixed with milk (Café au lait) to go along with your beignet donuts. According to Pops, being a waiter at the Cafe Du Monde used to be a prestigious job, you had to be very skilled to work there. Waiters paid the restaurant for the privilege to serve tables; they'd make all thieir income on tips–until labor laws put a stop to that.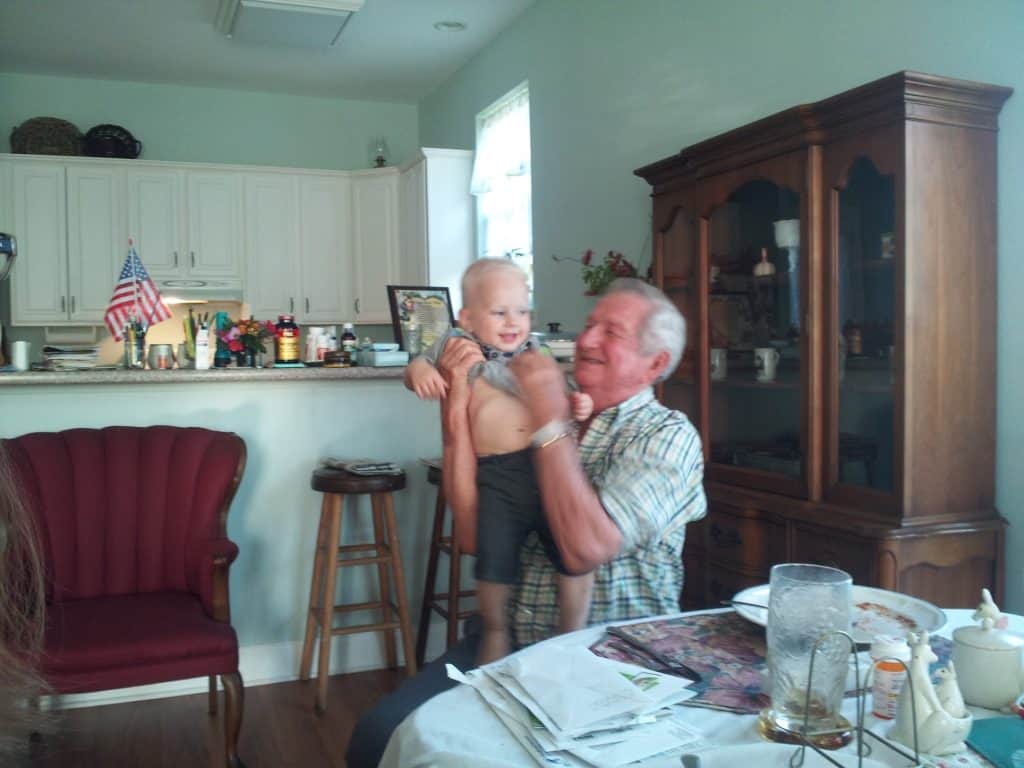 Grandpops was a devout Christian, a Gideon, and a deacon in the church. When I visited Grandpops as a kid, I'd often ride with him to church on Sunday. He would hum songs as we drove. There was a man with severe brain-damage that Pops would pick up on the way. I just looked through a few of the letters Pops and Bee wrote me when I was in Highschool and College; in them Pops (and Bee) would often talk about God and encourage me to trust Him. He remembered all our birthdays and anniversaries (we received several cards from him just a month ago) until he died, and he prayed for everyone in his family every day.
Pops was brief over the phone; and while he had opinions on things and would sometimes point out the irony or flaws in their positions, I noticed he didn't often get involved in trivial disagreements with people who didn't share his views. On more than one occasion he jokingly told me he didn't talk much so that others would think he was intelligent, and quoted Proverbs 17:28:
Even a fool who keeps silent is considered wise; when he closes his lips, he is deemed intelligent. – Proverbs 17:28 ESV
Even though we lived far apart, I am thankful to God who blessed me with the privilege of having Pops as a grandfather.
I can't say this about everyone, but I have every confidence that Grandpops was a genuine believer in Christ. Pops is not saved because of any good thing that he did, there is no good deed any man can do to cancel out his sin. Rather, he is saved by his faith because of what Christ did for him. The Bible informs us of the way to salvation, the Gospel. It is this: We have all sinned against a Holy God. This is not a trivial matter, God's righteousness demands a just punishment–death. Eternal damnation to Hell. But God loved the world so much that He sent His Son, Jesus Christ as a sacrifice. To die on the cross for our sins. God has offered terms of peace through belief in His Son. The wrath of God against your sin is satisfied in one of two ways: Either through eternal damnation to Hell, or for believers, through Christ's death atoning for your sin.
It is because of that belief in what Christ did for his sins, that today Pops rests in the very presence and glory of God. It is a fearful thing to fall into the hands of the living God. Choose to believe.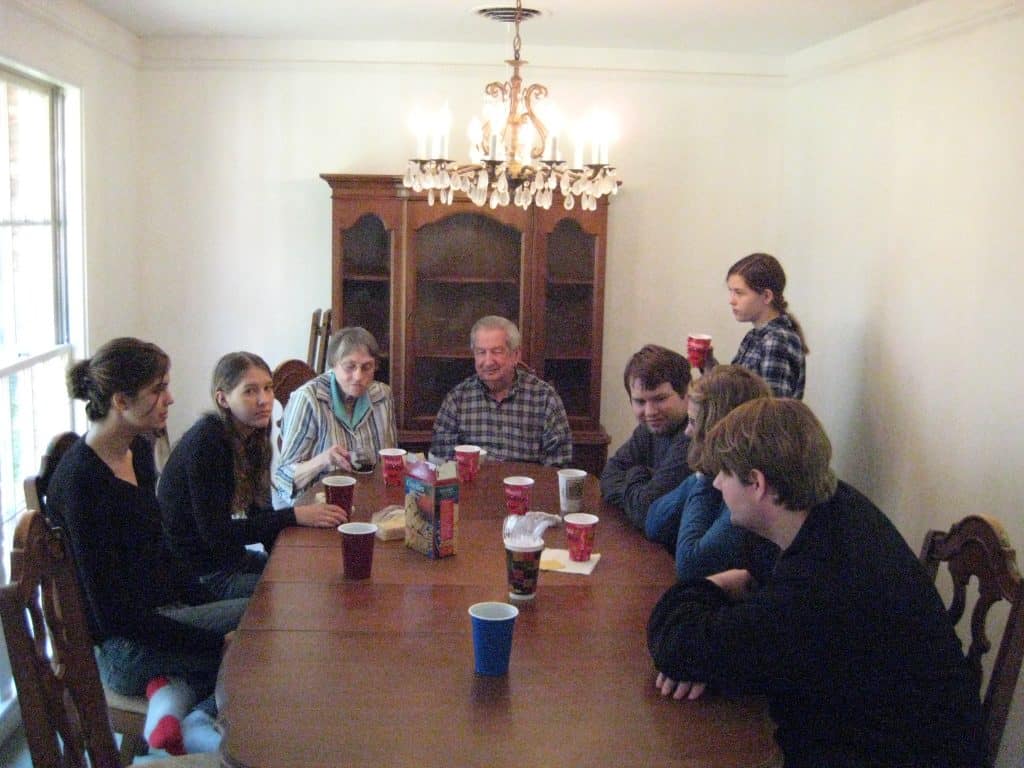 Hebrews 9:27 ESV –
And just as it is appointed for man to die once, and after that comes judgment, so Christ, having been offered once to bear the sins of many, will appear a second time, not to deal with sin but to save those who are eagerly waiting for him.
Reference: Obituary for Pops