This post is an unscientific spot test I did of Verizon, AT&T, and T-Mobile providers in the greater Sandpoint, Idaho area.
What's the best mobile provider in North Idaho?
Verizon, by far, has the best network coverage, but it is oversold and slows to a crawl at times.
T-Mobile is the only network with usable 5G in Sandpoint, is the fastest, and the best at penetrating buildings.
AT&T had the worst signal of the three, especially inside buildings or in rural areas. But has the best-prepaid plan if you frequent Canada or Mexico.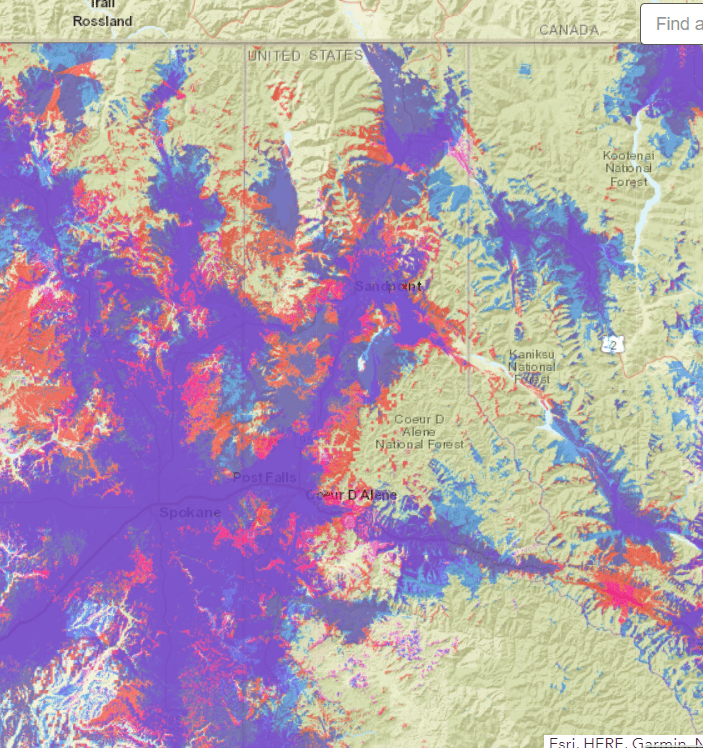 Summary of Wireless Performance
Verizon

Verizon is king when it comes to coverage around here. There is no 5G, but LTE is everywhere; it's fast and has low latency. I may find a dead spot here and there, but I rarely find an area where AT&T or T-Mobile has better coverage. Verizon is oversold in this area.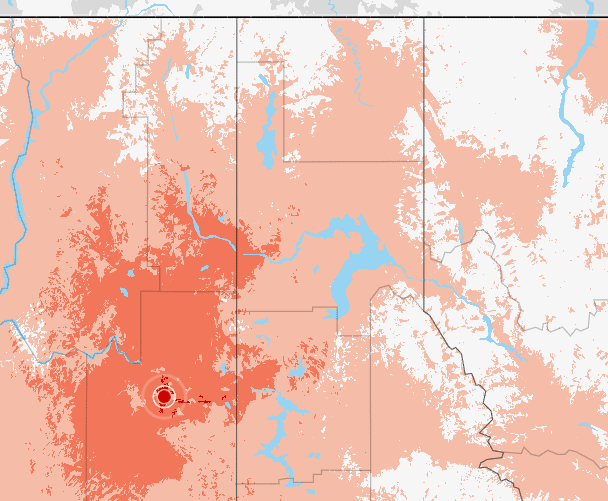 T-Mobile – 5G

T-Mobile is the fastest and has the best building/forest penetration but less coverage. T-Mobile has made huge investments in equipment. It almost always connects at 5G or 5GUC around town. But in addition to the high-frequency bands, it has in its arsenal the lowest band of all mobile providers, band 71 at 600MHz. I'm guessing this gives T-Mobile a 5-10% advantage over Verizon and AT&T's 700 and 800MHz bands. T-Mobile lacks the same coverage as Verizon and AT&T, but it can and does roam on AT&T's network (striped areas in the map below) in these parts. This means if you are on T-Mobile, you also get the coverage of AT&T.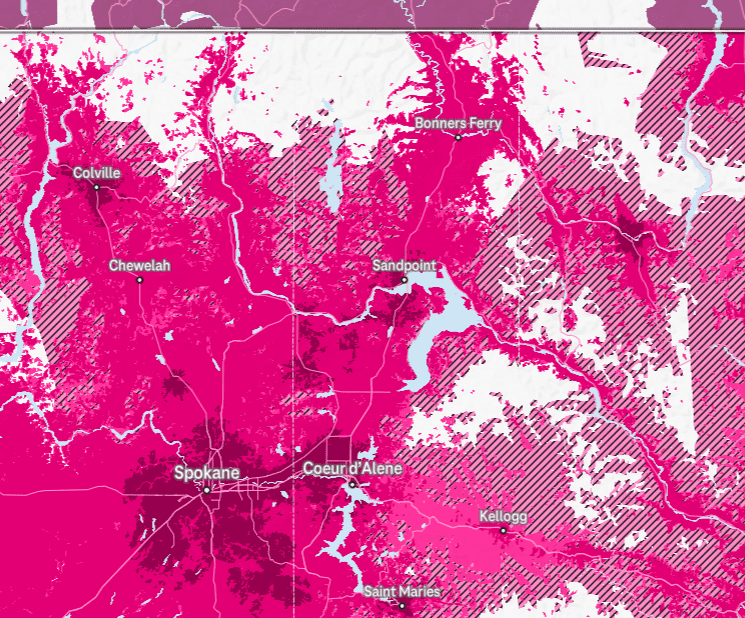 AT&T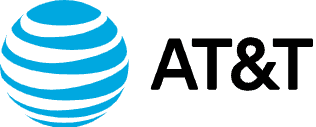 AT&T has wide coverage, but a number of dead areas compared to Verizon and T-Mobile. I was so surprised at how bad it was; I tested and retested but got the same poor results. I also confirmed my findings with friends who use AT&T. The coverage in this area is not as good as AT&T's map suggests. The map may say I'm in the middle of 5G, but as soon as I step inside a building, I'll see "no service." Most visitors to my house on AT&T ask to get on my WiFi. The federal government recently awarded AT&T a $7 billion FirstNet contract, so I wasn't expecting to find poor rural coverage considering the FirstNet network is supposed to be used by First Responders. I suspect AT&T is still working on their FirstNet network, and we should see some improvements soon.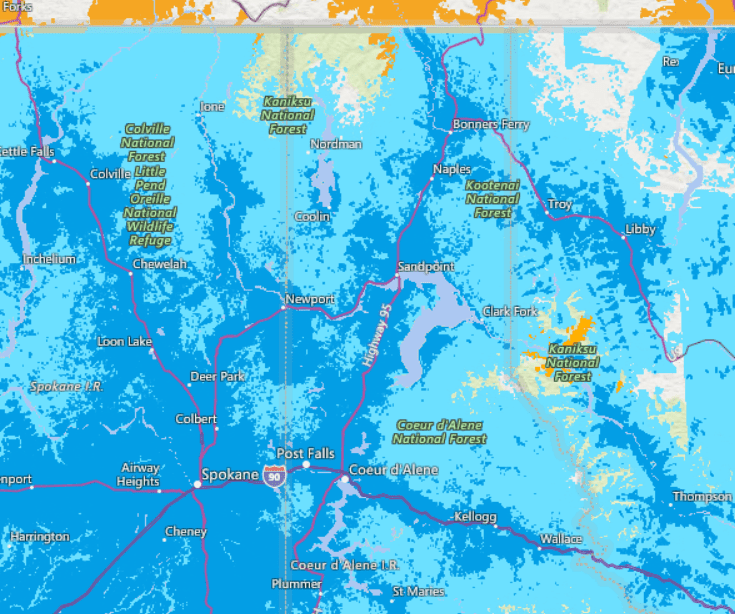 Testing Methodology
Invariably someone always claims they get no coverage where I get plenty, and the answer is usually that they're using an old phone, a phone designed for the wrong carrier, or a cheap cell phone that doesn't support all the bands on that network. I suggest using the latest Pixel or iPhone. Don't buy them from a carrier, but directly from Google or Apple. All my testing was with a newer iPhone 13, which supports the newest bands on all three networks. The latest Pixel phones will get similar results.
Also, my testing methodology is unscientific. I didn't always have time to get into diagnostic mode to see what frequencies things were running on, so sometimes I provide that info, sometimes not.
Test Location Results
1. My House
✔️ Verizon – 7/1 Mbps LTE. 800MHz.
✔️ T-Mobile -52/3 Mbps – takes the win, 5G UC (Ultra Capacity). Swaps to 600Mhz in the back rooms of the house.
❌ AT&T – "No service" I have to walk outside to get a usable signal. The AT&T map shows my house is in the middle of 5G coverage. The map is accurate if I'm standing on the roof, then I get 800MHz coverage. This isn't a usable signal for me since I don't usually hop on the roof to make phone calls.
2. Work
✔️ Verizon works great, LTE.
✔️ T-Mobile connects at 5G or LTE in some spots.
✔️ AT&T works great. LTE.
3. Church
✔️ Verizon connects on LTE, works fantastic.
✔️ T-Mobile connects at 5G but is slower than Verizon.
❌ AT&T connects at 5G or LTE (1 bar), but the internet is slow. Again, the coverage map shows it's in the middle of a 5G coverage area.
4. Round Lake
✔️ Verizon – (I lost the test results, but it was the fastest).
✔️ T-Mobile 29/17 – Connects at 5G.
✔️ AT&T – 8/1 – LTE.
5. Hayden inside a building
✔️ Verizon 108/3 – had the fastest speed on LTE.
✔️ T-Mobile 30/1 – second fastest, LTE.
✔️ AT&T 8/13 – had the best signal 5G – 5 bars. and best upload.
6. The Dump
✔️ Verizon – Fast
⚠️ T-Mobile – So, T-Mobile had no coverage here but automatically roamed onto AT&T's network and seemed to be plenty fast.
✔️ AT&T – Fastest
7. Off the highway North of town
⚠️ Verizon – slow but usable.
⚠️ T-Mobile – slow but usable.
❌ AT&T – no signal (sometimes will briefly get 1-bar).
Some of my Favorite Prepaid Plans
I'm a fan of paying as little as possible for cell coverage; here are some plans to consider on all three networks:
US Mobile (Verizon MVNO) – Best Coverage

$9/month – unlimited talk, text, $2/per GB data (shared in a pool of multiple lines). US Mobile is unique from all other Verizon MVNOs in that it has prioritized Verizon data and access to some of Verizon's US roaming partners.

T-Mobile Prepaid Connect – Best speed and 5G coverage. Up to 100MB/month on US domestic roaming partners (usually AT&T) when outside T-Mobile's coverage.

$10/month – unlimited talk, text, and 1GB of data.
$15/month – unlimited talk, text, and 3GB of data.

AT&T Prepaid– While it didn't do well for me up here, AT&T has great overall coverage in North America (especially in the Northeastern United States). Also, it's a great plan if you frequent Canada/Mexico. AT&T is one of the only options that will allow permanent roaming in Canada/Mexico. This is one of the best plans to use if you live in Canada or Mexico some of the time.

$300/year – unlimited talk, text, data (16GB fast speed). Unlimited roaming/calling in Canada and Mexico.
There are no refunds, so be sure to test AT&T and make sure you're happy with it.
There you have it. Of course, the networks may perform differently depending on your location. Always test before committing to a particular mobile provider. When people ask me what network is best, I always tell them Verizon has the best coverage overall. But T-Mobile has certainly made huge improvements.
Gracious words are like a honeycomb,
sweetness to the soul and health to the body.

— Proverbs 16:24