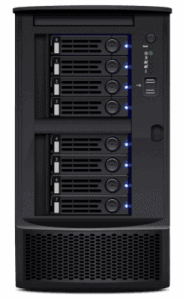 Catching up on email, I saw a Newsletter from iX Systems announcing the FreeNAS Mini XL (the irony).  On the new FreeNAS Mini page it looks just like the FreeNAS mini but taller to accommodate 8-bays.
Available on Amazon starting at $1,500 with no drives.
Here's the Quick Start Guide and Data Sheet.
The pictures show what appears to be equipped with the Asrock C2750d4i motherboard which has an 8-core Atom / Avoton processor.  With the upcoming FreeNAS 9.10 (based on FreeBSD 10) it should be able to run the bhyve hypervisor as well (at least from CLI, might have to wait until FreeNAS 10 for a bhyve GUI) meaning a nice all-in-one hypervisor with ZFS without the need for VT-d.   This may end up being a great successor to the HP Microserver for those wanting to upgrade with a little more capacity.
The case is the Ablecom CS-T80 so I imagine we'll start seeing it from Supermicro soon as well.  According to Ablecom it has 8 hotswap bays plus 2 x 2.5″ internal bays and still managed to have room for a slim DVD/Blu-Ray drive.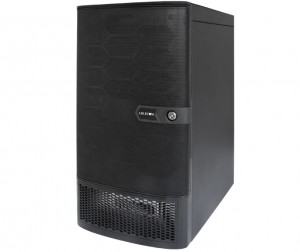 It's really great to see an 8-bay Mini-ITX NAS case that's nicer than the existing options out there.  I hope the FreeNAS Mini XL will have an option for a more powerful motherboard even if it means having to use up the PCI-E slot with an HBA–I'm not really a fan of the Marvell SATA controllers on that board, and of course a Xeon-D would be nice.